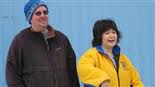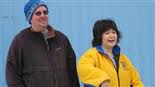 On February 26, 2011, Anne Lepine of Fort Smith, N.W.T. won the 6/49 prize of $7.6 million. What's truly remarkable is that back in 2007, she and her husband won $11 million in the 6/49.
What? According to the OLG web site, the chances of winning the 6/49 are just a tad under one in fourteen million. Let me repeat, fourteen million!!! Now what would be the chances of winning the 6/49 twice? Twice!?! I'm sorry, this somehow just doesn't seem fair. I think the gods are making fun of me. "Ha! That Belle guy thinks he's going to win by continuing to buy tickets. Hey! Let's mess with him by awarding his jackpot to somebody else so they win twice in the same lifetime. [chuckles] Oh boy, is Belle going to be hopping mad."
No kidding, eh? Never going to give a guy a break? Do you want me to beg, for crying out loud?
Ms. Lepine split the $11 million with husband back in 2007 but since then, has separated from him. Hmmm, that means she got the $7.6 million all to herself.
The CBC reported that the lucky winner was planning to go on a Caribbean cruise with her daughter but beyond that she had no plans. I was amused to hear her answer to a reporter's question about whether she would continue to play or not. "You can't win if you don't play. You got to buy a ticket in order to win." Wise words coming from a woman who won… twice! Twice!!! What are the odds!?! This isn't fair!!! I demand a recount!!!
Click HERE to read more from William Belle
Article viewed at: Oye! Times at www.oyetimes.com