Over 104 million of us used global fashion search engine Lyst to solve our wardrobe dilemmas in 2019. We shopped six million fashion products from more than 12,000 stores, the likes of which are scattered all across the globe. Analyzing this data, from most-searched to most-sold, and measuring coverage from the media and social platforms, Lyst has summarized the world of fashion and its key moments this year. From Bottega Veneta to Tevas, Harry Styles to Timothée Chalamet, if it broke the internet in 2019, Lyst has the data to back it up.
To guide us through the year, Lyst broke things down into 13 parts, starting with popular movements like sustainability and inclusivity and ending with predictions for 2020 (Think: the rise of political fashion and a re-up of jumbo-sized handbags). Ahead, find out what the numbers say went down on catwalks, red carpets, Instagram feeds and more in 2019.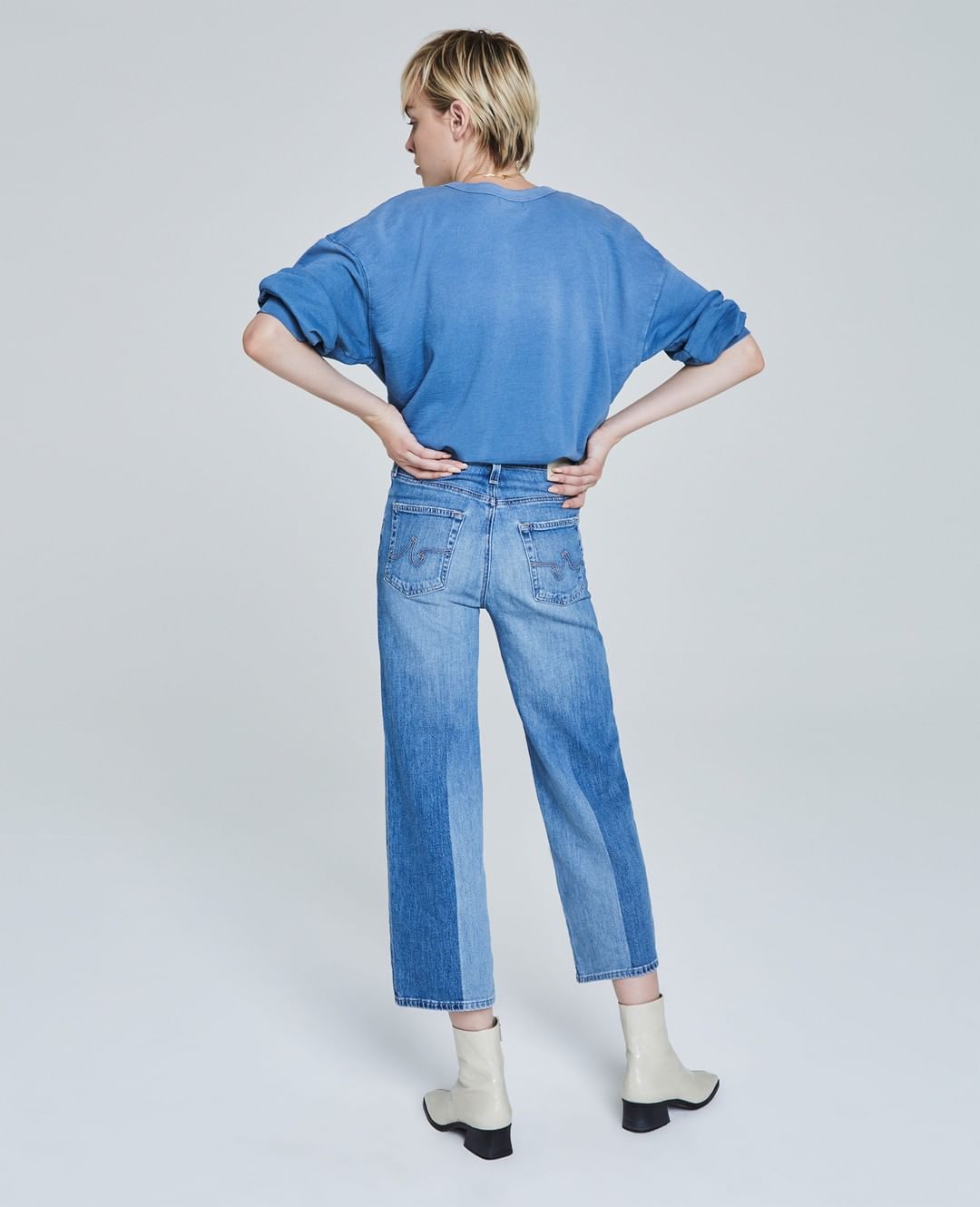 Movements
Progress is finally pushing forward and there were two key agents of change in 2019: sustainability and inclusivity. There were around 27,000 searches for sustainable fashion per month this year, with specific material searches rising 102% for Econyl, 52% for organic cotton, 130% for Repreve and 42% for Tencel, while sustainable sneakers and denim were the most popular product categories here.
Callouts against the fashion industry's lack of inclusivity translated across searches with a rise in modest fashion (up 90%), while genderless and gender-neutral fashion soared by 52%. Image via @agjeans.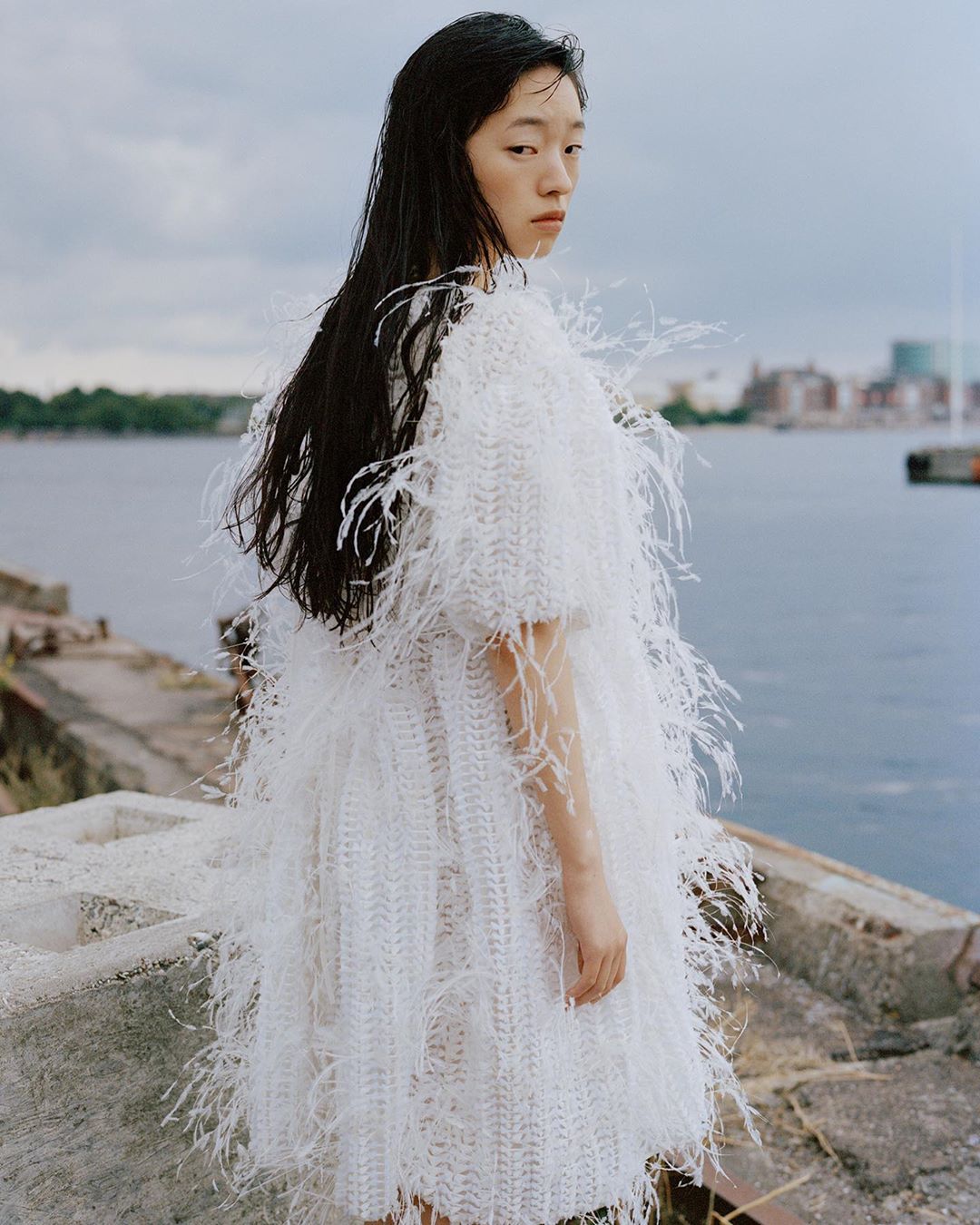 Moods
There was an abundance of trends from SS19-AW19 this year, but Lyst's eight highlights included 'Extra Romance' in the form of beaded bags, pearl hair slides, tulle skirts and babydoll dresses; 'Cult Girl Summer', all Americana prairie by way of LoveShackFancy, Batsheva and Cecilie Bahnsen; and '90s Resurgence', with a 164% increase in searches for Fendi's Baguette bag, plus a rise in popularity of archive pieces by Jean Paul Gaultier, Versace and Thierry Mugler.
The 'Psychedelic' trend came courtesy of tie-dye from Proenza Schouler and Ralph Lauren plus a 69% rise in searches for neon green; 'Statement Tailoring' saw a 19% increase in suiting searches in March, while Copenhagen Fashion Week's street style stars inspired a 55% rise in page views for oversized blazers. 'Streetwear' continued to flourish, with customers spending an average of $192 on sneakers, Off-White being the most-searched brand of the year, and the average amount spent on a T-shirt rising by 16%.
2019's bad news cycle inspired 'Survivalist' dressing, with cargo trousers, utility vests, and belt bags increasing 33%, while stomping boots rose by 73% in September. The Kardashians, too, influenced searches, with 'The Shapewear Revolution' seeing biker shorts rise 137% in search, while bodysuits and leotards grew 83% in the wake of Kim's controversial shapewear line. Image via @ceciliebahnsen.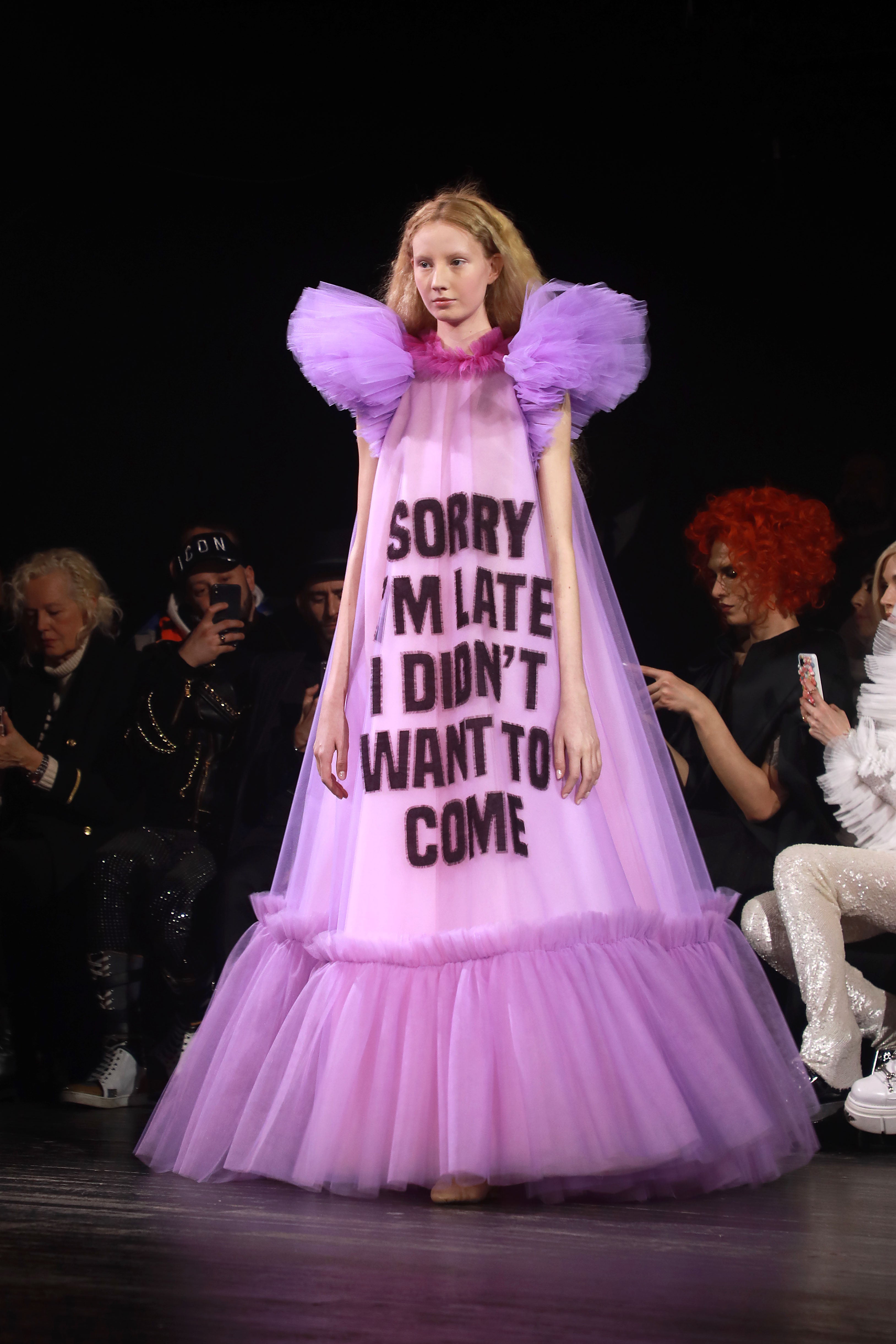 Moments
2019 wasn't short of viral moments, starting in January with Viktor & Rolf's 'meme couture gowns' bearing tongue-in-cheek (and super Instagrammable) phrases like 'I'm not shy, I just don't like you'. February saw the industry mourn the passing of Chanel's legendary creative director Karl Lagerfeld, March spotlighted K-Pop sensation Blackpink as they performed at Coachella, and May saw fashion's finest embrace camp as guests took to the Met Gala's red carpet.
May also saw Rihanna make fashion history as she became the first woman to create an original brand at LVMH with Fenty, which generated over 7 million social media impressions worldwide in the first month alone. July was a treat for us mere mortals as Celine Dion took Haute Couture Fashion Week by storm, turning out a different look every hour on the schedule. August was a significant month thanks to Meghan Markle guest-editing British Vogue, while the Fashion Pact, conjured up by French President Emmanuel Macron and Kering CEO François-Henri Pinault, was signed by 32 companies and 150 brands.
September saw Versace mania reach new heights when J.Lo walked the catwalk at Milan Fashion Week in a refreshed version of the iconic 'Jungle' dress (the very same that led to the creation of Google Images in 2001). Cardi B was the musician to call the shots later that month, with her turn at Paris Fashion Week in head-to-toe Richard Quinn sparking a 17% rise in searches for the designer.
October's headline news was Gigi Hadid escorting French YouTuber and gatecrasher "Marie S'Infiltre" off the Chanel catwalk, while Kate Middleton proved her royal clout by upping the collective searches for brands
Jenny Packham, Beulah London and Ghost by 170% on her tour of Pakistan. November and December? Watch this space…Photographed by Pierre Suu/Contributor/Getty Images.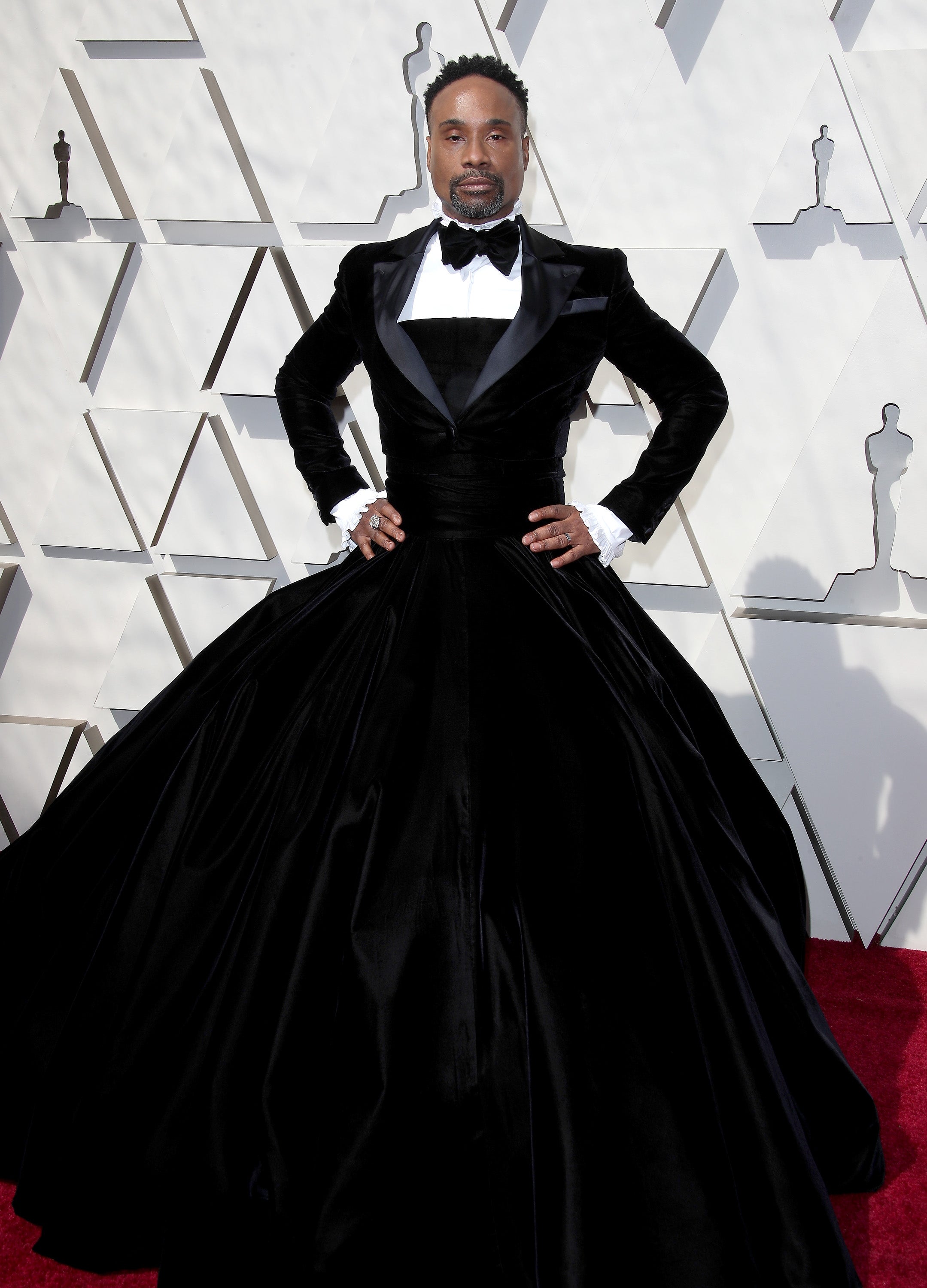 Power Dressers
Lyst's top 10 leaders in fashion – those who drove the biggest spikes in searches and sales – are a thrillingly diverse bunch. Coming in at number one is unsurprisingly Meghan Markle, whose outfits upped searches on average 216% per look, from a sellout Club Monaco dress to that J Crew skirt.
In second place is Timothée Chalamet, whose red carpet looks (that Louis Vuitton bib, the sequin hoodie and the Haider Ackermann suit) proved that he's anything but boring. Billy Porter's maximalist and genderless get-ups (we're still thinking about that Christian Siriano tuxedo-gown) put him in number 10, while Harry Styles' penchant for vibrant suits saw an increase in 78% baby blue tuxes after he stepped out in one in March.
Gen Zers repped places three and four, with Zendaya and Billie Eilish driving searches for Tommy Hilfiger and neon green respectively, while Kylie Jenner took seventh place thanks to the gold dress she wore to Justin Bieber and Hailey Baldwin's wedding (which prompted more searches than the bride's look).
Musicians took places five, six and eight, with Cardi B's vintage Mugler gown at the Grammys inspiring a 169% rise in search, Blackpink's Lisa becoming the most-followed K-Pop star on Instagram, and Lizzo's signature leotards leading to a 28% soar in searches. Photographed by Dan MacMedan/Contributor/Getty Images.
Click HERE to read more from Refinery29


Loading ...