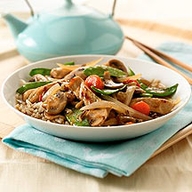 You can publish this article on your website as long as you provide a link back to this page.
This article was last updated on April 16, 2022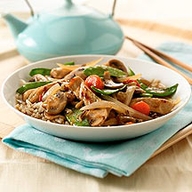 Oriental Pork Stir Fry
Serves 6
Ingredients:
1 1/2 lbs. pork tenderloin
2 tsps. vegetable oil
1 tsp. grated ginger root
1 clove garlic, minced
2 medium green peppers, cut into thin strips
1 8-oz. can sliced water chestnuts, drained
3 tbsps. soy sauce
1 tbsp. cornstarch
1 1/2 cups cherry tomato halves
Directions:
Partially freeze pork; cut pork into 3 × 1/2 × 1/8-inch strips.
Preheat wok over high heat; add cooking oil, stir-fry ginger root and garlic in hot oil 30 seconds; remove from wok.
Add half the pork to wok; stir-fry 5 minutes or until browned. Remove from wok. Stir-fry remaining pork 5 minutes or until browned; remove from wok.
Add green pepper and water chestnuts; stir-fry 3-4 minutes.
Combine soy sauce and cornstarch; stir into vegetable mixture.
Stir in pork; heat through. Add tomato halves, stirring to combine. Serve immediately.