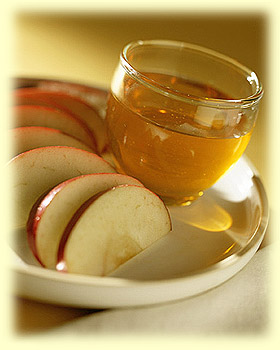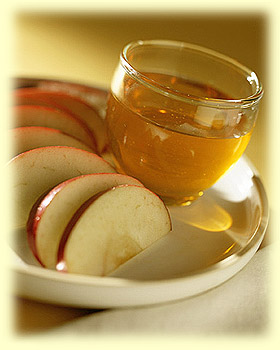 Honey Apples
Ingredients:
5 cooking apples, peeled, cored and cut into 4 rings.
3/4 confectioners' sugar
1 lemon, sliced
Syrup:
2/3 cup brown sugar
4 tbsp. clear honey
1 cup water
Juice of 2 lemons
For syrup, add sugar, honey and water into a large saucepan. Bring to boil, then boil for 5 minutes. Remove from the heat and stir in lemon juice.
Batter:
1 cup flour
1/4 tsp. salt
2 tsp. sugar
3 egg yolks
3/4 cup water
3 egg whites, stiffly beaten
Vegetable oil for deep fry
Sift the flour and salt into a bowl and stir in the sugar. Beat in the egg yolks and water until the mixture forms a smooth batter. Quickly fold in the egg whites.
Directions:
Drop the apple rings into the syrup and carefully stir the apples to coat the rings thoroughly with the syrup. Set aside for 1 hour.
Using a slotted spoon, transfer the apple rings to the batter, and stir to coat them completely. Discard the syrup. Set the apples aside.
Fill a large saucepan one-third full with oil and heat until it reaches 350 degrees Fahrenheit on a deep fat thermometer.
Carefully lower the apple rings into the oil, a few at a time, and fry for 2 to 3 minutes, or until they turn golden brown and crisp. Remove from the oil and drain on kitchen towels.
Put the confectioners' (icing) sugar on a large plate. Dip the apples in the sugar and arrange them on a serving dish.
Decorate with lemon slices.