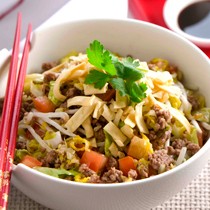 You can publish this article on your website as long as you provide a link back to this page.
This article was last updated on April 16, 2022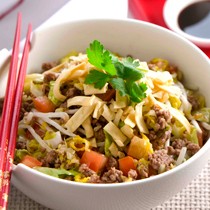 Beef Chow Mein
Ingredients:
3/4 lb. round or rump steak, thinly sliced across the grain
1 tbsp. soy sauce, reduced soy can be used
1 tbsp. sugar
8 fresh mushrooms, thinly sliced
1/2 lb. bean sprouts
3 scallions, sliced into 1" pieces
1 bok choy, sliced into 1" pieces
2 c. beef stock
2 tbsp. cornstarch
1 tsp. sesame oil
2 c. noodles
2 tbsp. peanut oil
Directions:
Combine beef, sugar, soy sauce, and sesame oil in a bowl, and mix well. Set aside, and marinate for at least 1 hr.
Wash and slice the mushrooms, including stems. Soak, rinse, and drain the bean sprouts.
Cook noodles in boiling water according to pkg. directions. Drain well.
In a separate bowl, mix the cornstarch and beef stock together.
Drain the beef, reserving the marinade.
Heat the peanut oil until it sizzles, then stir fry the beef for 4-5 mins.
Add the cornstarch mixture, and mix well. Bring to a boil, and stir constantly.
Add all the vegetables, except the bean sprouts, and simmer for 3 mins. longer.
Add noodles, and bean sprouts, to wok, and mix well, until all is hot and bubbly. Serve.