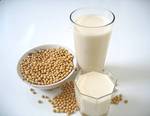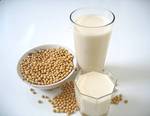 Soybean Milk
Serves 4
Ingredients:
1 cup soybeans, soaked in water overnight, then drained
3 to 4 cups water
Flavoring of your choice (sugar, cocoa, coffee, etc.)
Directions:
Grind soybeans in blender, adding a little bit of water. Mix until the beans are reduced to fine pulp. Add remaining water. Pour into a cheesecloth-lined colander which has been placed over a bowl. Wrap the cheesecloth over the bean pulp and extract all the milk by squeezing and wringing.
Pour the milk into saucepan and bring to a boil. Serve hot or cold, flavored with sugar and cocoa or coffee.