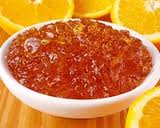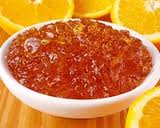 Orange Jelly
Ingredients :
600 ml orange juice
125 g sugar
45 g gelatine
Rinds of 3 oranges
Juice of 2 lemons
Angelica
Method :
Put water, sugar and gelatine into a pan.
Cut thin strips of the orange rind, avoiding white pith.
Add strips to the pan and bring slowly to the boil.
Leave to infuse, with the lid on, for 10 minutes.
Add the orange and lemon juice to this mixture.
Pour the jelly into a wet metal mould or prepare orange skin cups made from half sections of pulp free peels.
Fill with liquid jelly, stand in patty tins to hold up right and refrigerate.
Decorate with piped cream and angelica strip handles to form baskets.