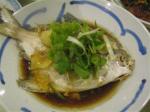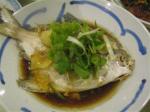 Steamed White Pomfred
Ingredients:
1 white Pomfret, 500 gm
5 gm wolfberry seeds
10 gm ginger, shredded
1 sprig onion
Adequate fried onions shreds
Seasoning:
3 tsp light soya sauce
Dash of sesame oil
1 tsp sugar
1 tsp Shaoxing wine
3 tbsp water
Directions:
Scale, clean gills and intestines. Make diagonal slits on fish. Transfer to steamer, steam for 8 minutes. Remove.
Heat up wok with 1 tbsp oil, stir fry ginger shreds, add in wolfberry seeds and seasoning, bring to the boil and pour over fish.
Sprinkle fried onion shreds on top.