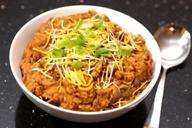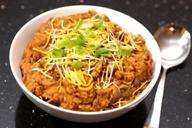 Smoky Refried Beans
Ingredients:
2 garlic cloves
2 tablespoons canola oil
1/4 cup of liquid (black beans also work well)
1 teaspoon cumin
2 (15 ounce) cans pinto beans , drained, reserving
1 teaspoon chili powder (less for a lower heat-tolerance)
1/2 lime
Preparation:
Heat oil in a heavy skillet over medium-low heat. Add whole garlic cloves and cook, turning once, until browned on both sides, about 5 minutes. Smash garlic cloves with a fork just enough to break them open and flatten them a little. Add pintos and liquid and cook until heated through, about 5 minutes. Add spices and salt to taste. Stir well. Turn the heat down to medium-low and smash beans with a big fork. You don't have to smash every single bean. Leave some whole for texture. When mashed to your liking, squeeze the lime juice all over the beans and serve warm.