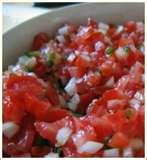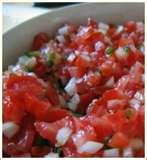 Authentic Mexican Salsa
Ingredients:
3 large ripe tomatoes, peeled and seeds removed, chopped
2 small cloves garlic, minced
3 tablespoons finely chopped onion
2 to 3 tablespoons minced cilantro
2 hot chile peppers, Serrano or Jalapeno, finely chopped
1 1/2 to 2 tablespoons lime juice
salt and pepper, to taste
Preparation:
Put the minced garlic and chopped onion in a strainer. Pour 2 cups of boiling water over them and let drain throughly. Discard the water and let cool. Combine the garlic and onions with the chopped tomatoes, cilantro, peppers, lime juice, salt, and pepper. Refrigerate for about 2-4 hours to allow the flavors to blend. Recipe servings: about 2 cups of salsa.