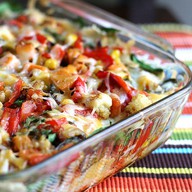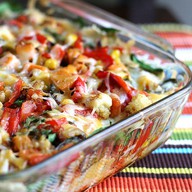 Stacked Fajita Vegetable Enchilada Casserole
Ingredients
1/2 zucchini, cut into 1/4-inch slices
1 cup red bell pepper slices
1 onion, cut into 1/4-inch slices and separated into rings
1 cup water
1 teaspoon vegetable oil
1 (1.27 ounce) packet dry fajita seasoning
1/2 cup all-purpose flour
1/2 cup nutritional yeast
1 teaspoon salt
1 1/2 teaspoons garlic powder
1/2 teaspoon dry mustard powder
2 cups water
1/4 cup margarine
2 (10 ounce) cans red enchilada sauce
5 (9 inch) whole-wheat tortillas, torn into 1-inch pieces
1 1/2 cups cooked brown rice
3 (15 ounce) cans black beans, rinsed and drained
1 tablespoon sliced black olives (optional)
1/4 avocado – peeled, pitted and diced (optional)
2 tablespoons chopped tomato (optional)
1 jalapeno pepper, seeded and thinly sliced (optional)
2 tablespoons chopped onion (optional)
2 tablespoons prepared salsa (optional)
2 tablespoons sour cream (optional)
Directions
Preheat oven to 350 degrees F (175 degrees C).
Place zucchini, red bell pepper, and 1 onion sliced into rings into a bowl; stir in 1 cup water, vegetable oil, and dry fajita seasoning. (Mixture can be left to marinate 1 to 2 hours, if desired.) Drain vegetables.
Heat vegetables in a large skillet over medium heat. Cook and stir until soft and slightly browned, about 10 minutes; transfer to a bowl and set aside.
Place flour, nutritional yeast, salt, garlic powder, and dry mustard powder into a saucepan and whisk in 2 cups water until thoroughly combined.
Place saucepan over medium heat and bring the mixture to a boil; reduce heat to low and simmer, whisking constantly until thick, about 5 minutes.
Stir in margarine and remove sauce from heat.
Pour 1/2 can of enchilada sauce into bottom of a 9×13-inch baking dish and spread the sauce out to cover the bottom. Top with 1/4 of the tortilla pieces, and spread 1/2 cup brown rice onto the tortillas.
Spread 1/3 of the cooked vegetables over the brown rice.
Spread 1 can of black beans over the vegetables; cover beans with 1/4 of the nutritional yeast sauce.
Repeat the layers twice more.
Make a final layer containing remaining 1/4 of the tortilla pieces, remaining nutritional yeast sauce, and remaining 1/2 can enchilada sauce.
Bake casserole in the preheated oven until bubbling, 30 to 45 minutes; allow to stand for 10 minutes.
Top casserole with optional black olives, avocado, tomato, jalapeno pepper, 2 tablespoons of chopped onion, salsa, and sour cream before serving.