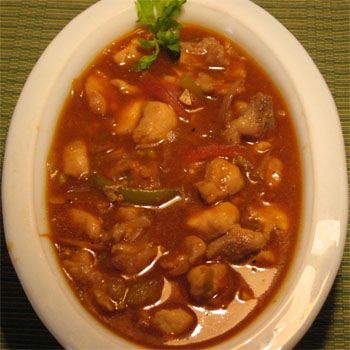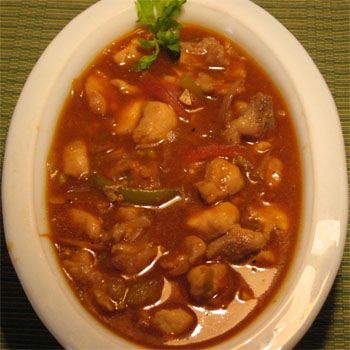 Chicken Manchurian is one of the most popular recipes of
Chinese Cuisine
but lovingly desired in almost every region.
Pakistani Chicken Manchurian
is designed with Halal foods.
Ingredients to Marinate the Chicken:
– Boneless Chicken: 500 gm
– Garlic paste: 1tsp
– Egg : 1
– Flour 1tsp
– Oil 1tsp
– Salt & pepper as per taste
Cut the boneless Chicken in Cubes and mix all the above ingredients. Marinate it for one hour. Deep fry the above marinated chicken and keep it in a side until you ready the Chicken Manchurian sauce.
Ingredients for Chicken Manchurian Gravy Sauce:
– Chopped Garlic: 4tbsp
– Cooking Oil: 4 tbsp
– Ketchup: 5tbsp
– Capsicum: ½ cup
– Pineapple: ½ cup
– Spring Onion: 1
– Worcester sauce: 2tbsp
– Oyster sauce: 2tbsp
– Corn flour: 2tbsp
– Black pepper & salt as per taste
– Water: 1 cup
Directions to Make Chicken Manchurian:
Sauté fry the chopped garlic cloves in 4 tbsp of oil. Add the capsicum, spring onion and sauté for 1 minute. Then add pineapple and fried chicken and sauté again. Put the ketchup and sauces. Then add water. Cook it for 4 to 5 minutes. Dissolve the corn flour in ¼ cup of water. Then add corn flour mixture in it to make the gravy thick.
Easy to cook Chinese Chicken Manchurian is ready. Serve it with egg fried rice and enjoy
Click HERE to read more from Fashion Central.