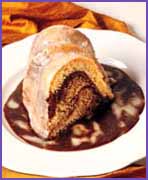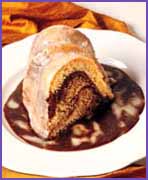 Ingredients :
For the pancakes :
100 gms maida
300 ml milk
1 egg or 3 tsp ghee
a pinch salt
For the filling :
300 gms paneer, finely chopped
1 onion, chopped
3 green chillies, chopped
½ tsp chilli powder
1 tbsp ghee
salt to taste
For the sauce :
900 gms tomatoes
½ tsp chilli powder
? teacup fresh cream
3 to 4 tsp sugar
2 tbsp tomato ketchup
salt to taste
For the topping :
4 tbsp grated cooking cheese
Method :
For the pancakes :
Combine the flour, milk, egg and salt.
Keep the batter for at least 20 minutes.
Make pancakes in a frying pan, using a little ghee or butter while frying.
Use a non-stick frying pan if the use of egg has been omitted.
For the filling :
Sauté the onion for ½ minute in the ghee.
Put the chillies and sauté again for ½ minute. Switch off the gas and put the paneer, chilli powder and salt. Mix properly.
For the sauce :
Slice the tomatoes into big pieces, put 1 teacup of water and keep it to cook.
When cooked, take out a soup by passing through a sieve.
Put the chilli powder, tomato, ketchup, sugar and salt and simmer for 15 minutes.
put the fresh cream and mix properly.
How to proceed :
Grease a baking dish and spread a little sauce at the bottom.
Put a pancake over it and spread a little filling and again a little sauce.
Repeat and build up layers of pancakes, filling and sauce.
Finally cover with some more sauce and top with the grated cheese.
Bake in a hot oven at 450ºF for 10 to 15 minutes until cooked.
Ready to serve hot.