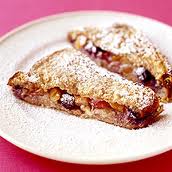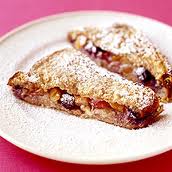 Ingredients
16 Slice light whole wheat bread
1 cup Blueberries, fresh, or frozen blueberries (thawed if frozen)
1 Large mango, chopped or 1 cup frozen mango slices (thawed if frozen)
2 1/2 cup Fat-free skim milk
8 Eggs
2 tbsp Sugar, granulated
1 tsp Ground cinnamon
1 tsp Vanilla extract
1 tbsp Powdered sugar
Preparation
Preheat oven to 400ºF.
Arrange 8 slices of bread in bottom of a 9 X 13-inch baking dish, squishing slices together to make one layer; sprinkle blueberries and mango over top.
In a medium bowl, whisk together milk, egg, granulated sugar, cinnamon and vanilla extract. Pour half of milk mixture over fruit; top with remaining 8 slices of bread.
Pour remaining milk mixture over bread; using a spatula, press top layer of bread slices down to saturate with milk mixture.
Cover dish with aluminum foil and bake 20 minutes; uncover dish and bake until egg mixture is set and top is golden brown, about 10 minutes more.
Cool slightly before sifting powdered sugar over top. Slice into 8 pieces and serve.