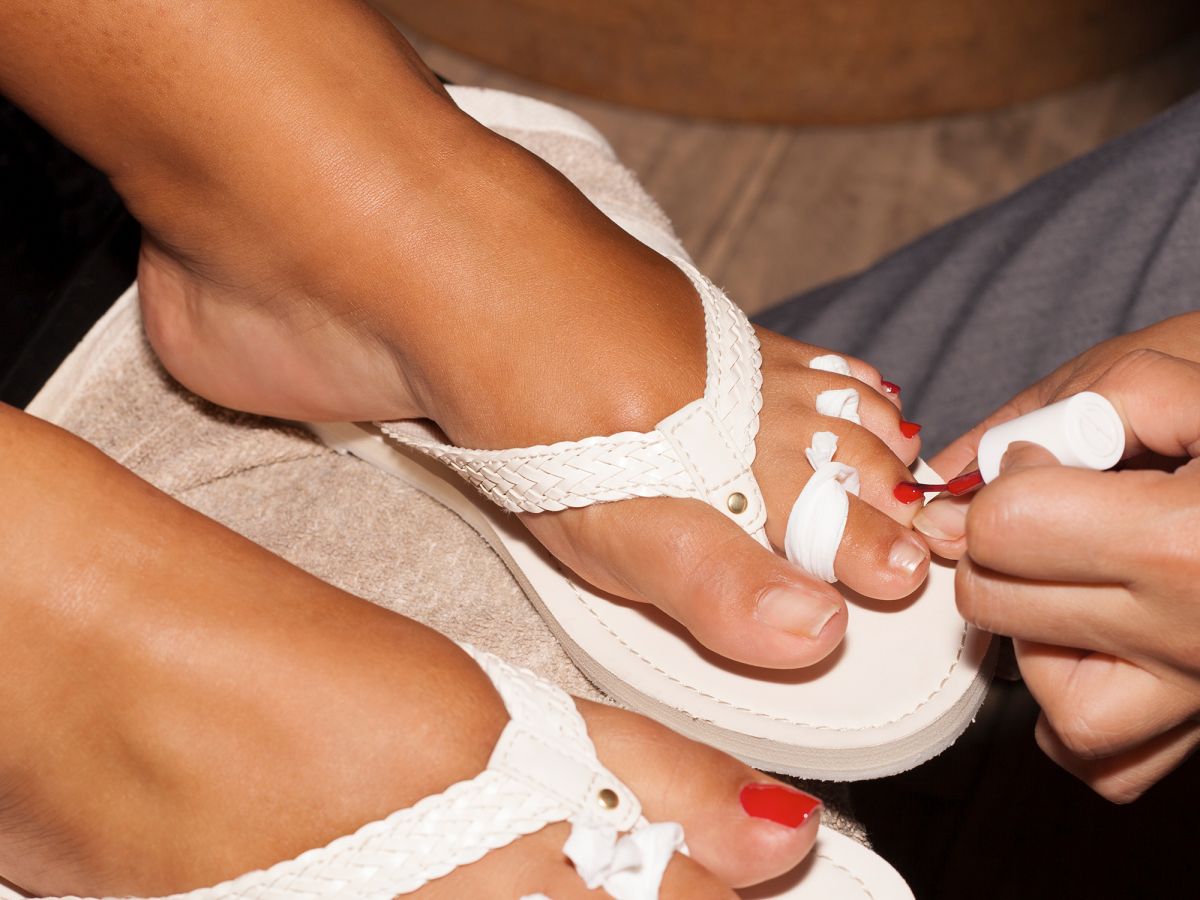 Unless you're the founder of Baby Foot, you probably often crave a relaxing, callus-blasting pedicure from time to time. There's just something so refreshing (and, yes, disgusting) watching those flakes fall from your tired soles into the basin. But if you're Jennifer White of Indiana, you might suddenly disagree.
White recently told local ABC affiliate RTV6 about her horrific experience after spending a spa day with her two children at a local salon in Noblesville, IN. Sadly, White alleges she got a lot more than just a relaxing soak and polish change. A couple days after her treatment, White found herself in the ER due to noticeable swelling and discoloration in her right foot. The diagnosis: A severe infection that's left White out of work for nearly a week. (Check out the video at the very bottom of this post for proof, but fair warning: It's pretty gruesome.)
White claims that her doctors are suggesting the infection (which has yet to be identified) came from a small cut in her foot that was potentially infected at any point during the treatment — possibly by an unclean tub or tool. But this isn't totally uncommon. Back in 2012, The New York Times reported a case similar to this: One New York native contracted a staph infection through a nick in his cuticle during a manicure in a Harlem salon. Yikes.
During any manicure or pedicure, you should always be hyper-aware of the tools being used — and whether they've been properly sanitized and are safe for use. According to the
Indiana Administrative Code,
the use of razor devices to shave or
remove calluses
is prohibited. The manager of the salon told RTV6 that they did not use a razor during White's appointment and insists the salon is not to blame for the patron's infection. Although the same manager maintains that White's infection was not directly caused by the pedicure she received, the salon
is
open to helping pay White's medical bills.
It's a terrifying tale to be sure, but before you swear off pedicures forever, there are plenty of ways to avoid a situation like this from happening to you. For starters, look out for these nail salon warning signs — and try to always choose salons with jet-free basins. "With pedicure jets, it's like swimming in someone's personal Jacuzzi," manicurist Elle told Refinery29 in the past. "Not only are they too hard to clean, but the hot water breeds bacteria. And if you have an open cut on your feet? Well, that's it."
Another solution? Grab your favorite nail polish and get to work on your at-home pedicure skills. At the very least, if your foot starts turning purple, you'll have no one to blame but yourself.
Watch the full video below, if you dare, for even more info on White's pedicure horror story.
Click HERE to read more from Refinery29


Loading ...