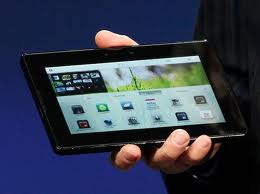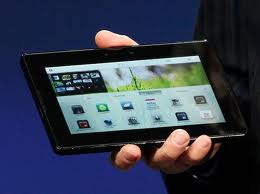 It's here. Finally. And now we all get a chance to see if the Playbook will turn out to be an iPad killer and bring the company back into relevance on the world stage. After all, tablets are hot, hot, hot and how can this miss? Right? Yes?
Okay, the tech comparisons go on. About the same price. iPad, 10 inch screen, Playbook, 7 inches. Various models at 16, 32, and 64 gigabytes. Looks great. Less than a pound in weight.
The new OS as reported by the New York Times led to quite an amusing observation: Its software is based on an operating system called QNX, which Research In Motion, the BlackBerry's maker, bought for its industrial stability. ("It runs nuclear power plants," says a product manager without a trace of current-events irony.) – That made me laugh. Hello? Fukushima!
But, but, but, and here is the big but, the Playbook is missing apps. Some important apps. Yeah, like how about email? What!?! Yep, it doesn't have email. Or contacts or a calendar. Apparently these and many other applications will not be available until the summertime. Hmmm, is this release a tad premature?
Note: Email, contacts and the calendar are available if the Playbook is tethered to a Blackberry. Speculation has it that this early release, seemingly premature, is targeting existing Blackberry users.
This first version only supports Wi-Fi. There is no 3G connectivity.
The Washington Post summed it up: the early word from tech reviewers and Wall Street analysts is that the gadget isn't quite ready to compete with Apple Inc.'s iPad.
AFP reported that shares in RIM fell after initial reviews of the Playbook were not that favourable.
Bloomberg – Apr 13/2011
Bloomberg's Jaroslovsky Reviews RIM's PlayBook Tablet
April 14 (Bloomberg) — Bloomberg's Rich Jaroslovsky reviews Research In Motion Ltd.'s PlayBook tablet computer. The PlayBook, which arrives in stores April 19, is initially available only with a Wi-Fi connection. It's priced the same as the Wi-Fi-only models of Apple Inc.'s iPad 2: $499 for 16 gigabytes of storage, $599 for 32 GB and $699 for 64 GB.
References
The New York Times – Apr 13/2011
A BlackBerry Tablet, but Where Are the Apps? By David Pogue
The Washington Post – Apr 14/2011
BlackBerry PlayBook: Is It Ready for Prime Time? By Jennifer Valentino-DeVries
Click HERE to read more from William Belle
Article viewed at: Oye! Times at www.oyetimes.com