Facebook Home as the center of our world has escaped into the wild – have you tried it and what's the verdict?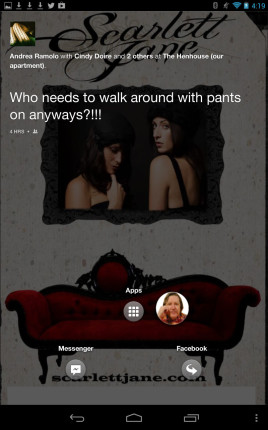 Facebook Home is Facebook's launch point for Android smartphones and soon to be tablets.
Install it and you may have something to dazzle your friends with for a nanosecond.
While officially only available for a week on select HTC devices in select countries, you can get it working on most Android gear with a patch from Modaco. (see installation notes below)
After a few false starts, I got it working on my Nexus 7.
It's cool. It's wonderfully visual.
It's cryptic and slightly weird.
Facebook Home becomes the landing-place for the device with Friends posts sliding by with Ken Burns photo animation.
Just click around to see what you get. Notifications show on the screen and tap takes you there.
Your mug / my mug appears at the bottom of the screen.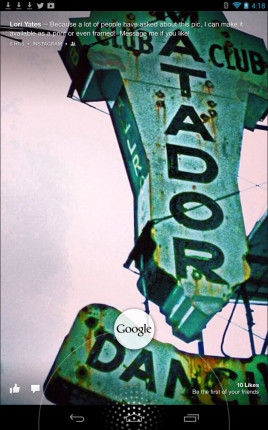 Push it around to go to Facebook Messenger, Apps and good old Facebook (Android version).
Hold down the Home key, slide up and tap on Google and Google Cards appear.
Google Cards appear to be quick search cards. Some cards are pre-configured like latest updates and the local weather.
You can also setup your own Cards.
I haven't figured out how to get back to the Android start screen, except that it goes there in a few seconds from Google Cards.
With no tutorial, Facebook Home is like wandering around until you find the jewels and Easter eggs.
Home is definitely a diversion with the lazy pace and graphic environment.
Your Friends Facebook updates never looked better.
Installation notes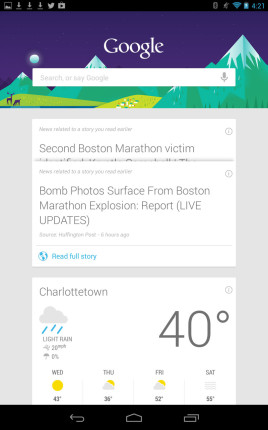 Paul O'Brien atModaco.com has the patched files that allow Facebook Home to be installed on a rooted or unrooted Android device.
As in all hacks, you're on your own if things go boom or even poof in the night.
You can leave comments, accolades or calm questions on Paul's blog. He is a cool and talented dude.
Thanks to friends Andrea Ramolo and Lori Yates for their cool updates.
Facebook Home – a great way to while away the time lazily swiping Facebook stuff.
By Stephen Pate, NJN Network