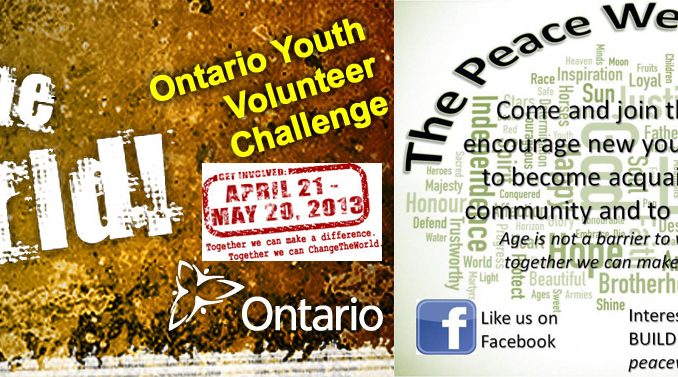 "Volunteers are the only human beings on the face of the earth who reflect this nation's compassion, unselfish caring, patience, and just plain love for one another." – Erma Bombeck.
Change The World (CTW) Ontario Youth Volunteer Challenge is a four-week promotion of high school students across the province to raise awareness about youth volunteering in Ontario from April 21st to May 20th. This year's Youth Volunteer Challenge is about encouraging YOUTH ages 14-18 to aim for three hours of volunteering over four weeks in completing their 40 hours. The participation in this campaign is open to anyone in secondary school and the involvement will contribute to your community as well as yourself. For the first time, Peace Welcome Club will be participating and supporting local volunteer centres in the CTW campaign to get Ontario high school students to VOLUNTEER!
In this year's CTW campaign, you can participate in things such as clothes drives, food drives, neighbourhood environmental clean-ups or going to a senior's centre for a visit with youth. You can also help Peace Welcome Club make a difference in taking part in their CTW Ontario Youth Challenge. You can help us at Peace Welcome Club in our book drive, jean green drive, food drive for the needy, community clean up events and our renowned shoreline clean-up. The different drives such as the Jean/Book/Food that are being hosted by us are to collect and organise books to support First Nations Children and Youth, a jean drive in order to support underprivileged children locally and internationally, as well as food items to support local food banks. As a group we are also hosting Clean ups around local communities. One initiative is the Community/Shoreline project where you can help collect garbage on the streets. To participate in this amazing fun-filled nature event, contact us.
The best part about these four-weeks is that National Volunteer Week falls in the first week of Change the World's Ontario Youth Volunteer Challenge which makes it more exciting to try your best. National Volunteer Week is about celebrating all the various forms of engagement from inspired environmental change, shoreline clean-ups, coaching community sports teams, tutoring and even helping a local Children's Aid Society. Those who use this for their 40-hour service will have gained a substantial amount of experience and you also get a certificate from the local volunteer centre recognizing your contributions to CTW's Youth Challenge (which looks great on a resume).
In these four weeks, your life can be changed through the simplest of tasks in volunteering. You could get inspired from someone to do what they have achieved or even inspire others yourself. I have personally been inspired by many during these weeks of committed volunteering time from many peers. You can also be motivated from a simple clean-up you helped with at a neighbouring street that developed a passion for nature inside of you. These types of situations can bring the best personalities out of people at a time in their life during these delicate stages of volunteering. So, why not try it out for yourself this April 21
st
to May 20
th
, and tell others about your experiences/hopes for the future like me?
These are only examples of ideas that you can work on but there are endless opportunities available on CTW's website where you can explore the required information you need to get. On the bright side, chances are you will accomplish….a lot more than you think.
To find out more about my thoughts on this campaign from last year visit the web link below –
http://www.theifp.ca/community/local-youth-volunteer-challenges-his-peers/
If you would like to learn more, I would love to share my ideas on how to participate in this campaign. Let's talk and Change the World in four weeks!!
For updates on our exciting volunteer initiatives, please:
Like us on Facebook @ http://www.facebook.com/PeaceWelcomeClub
I would like to thank you all for your hard work for the Peace Welcome Club initiative in Canada. Your dedication and commitment will be crucial in the coming months as we move forward with our volunteer projects. I look forward to seeing you all at the upcoming CTW challenge and stay tuned for national volunteer week kick off details – http://volunteer.ca/content/national-volunteer-week
If you have any questions, please feel free to contact us at PeaceWelcomeClub@gmail.com