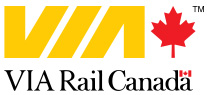 An Oye Times Travel Journal entry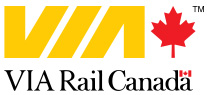 An automotive enthusiast and a live-to-drive mentality usually consumes my being, but somewhere between priority boarding and my first drink of scotch I was so completely relaxed I vowed to take the train as often as possible.
Toronto to Montréal – Economy Class
My VIA Rail experience actually began about 24 hours earlier when I rushed in to Union Station in Toronto hoping to not be late for a train that departed for Montréal at 6:35pm. When I made it to the ticketing counter it was almost 6:20. All I had to do was pickup my reserved tickets and make my way to the platform; 15 minutes would be plenty I imagined. That was the thought until at the counter I learned there had been a problem with my reservation, my tickets weren't there! I was ready to resign my hopes for making this last train to Montréal and was mentally preparing myself for an overnight drive in order to make the Montréal International Auto Show I was scheduled to attend the following morning.
To my greatest surprise the VIA Rail attendant at my counter sprang to action and went back and forth between her supervises in the back knowing I had minutes to board the train. After what felt to me like an eternity, she came up to me and said "don't worry, I'll fix this, you'll make the train."
In all my years of dealing with front line sales/ customer service people, never had I experienced this level of competence. Never had someone in the front line taken responsibility. I hadn't boarded the train yet, but I was already in love with VIA Rail.
The train from Union Station set off right on time, 6:35. I was comfortably seated next to a North facing window in a rail car that was mostly unoccupied. Over 4 million people rode VIA Rail in 2010, from where I sat that evening, there's room for so many more.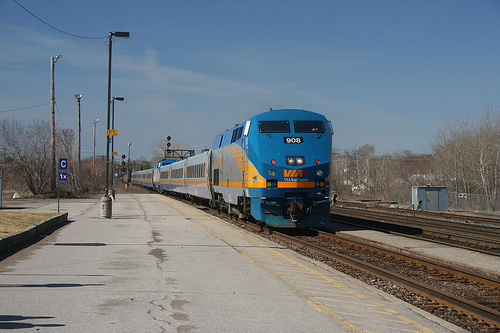 Train, plane, boat food often gets a bad reputation. I've tried lots of the latter two and am inclined to agree, but never having tried food on a train, I bought myself a cold sandwich from the cart my cabin attendant brought around. Despite the bread being a little dry, the egg salad sandwich itself was a treat; it even came with some couscous and fresh vegetables which I truly enjoyed. I learned from my cabin attendant that the food served in business class – known as VIA 1 – is quite exceptional and made fresh each trip by select attendants who love food and have a flair for it.
I also learned that my cabin attendant had been doing this for almost 20 years, VIA Rail was his first employer out of school, and according to him, is the only place he would work. Not a surprise perhaps, considering that he is a second generation VIA Rail employee, turns out that the railway can also run in your blood.
Besides the occasional chats I had with my rail car attendant, the ride to Montréal was fairly uneventful. Had it not been for the wireless internet access and power outlet by my seat – allowing me to keep my laptop running and myself productive – I would've nodded off in minutes to the rhythmic tune of a train on tracks. That being said, it did take about an hour for me to get used to the regular blowing of the train's whistle; guess the safety reasons behind blowing the whistle trumps my preference for quiet.
The train pulled in at the Central Station in Montréal a few minutes prior to our scheduled arrival of 12:09am. Seeing as it was my first time arriving in Montréal by train, I took a moment to stroll around the station and connecting corridors which leads to everything from a variety of eateries to the Queen Elizabeth Hotel upstairs to the mall across the street. Central Station itself closes at mid-night and unlike stations often encountered during European rail travel, this is no place for back-packers to bunk down in for the night.
Montréal to Toronto – Business class
After wrapping up my media preview day at the Montréal International Auto Show I found myself back at Central Station about 40 minutes prior to my scheduled train departure for Toronto at 6:10pm.
Given I was travelling in style this time around; my business class ticket gave me access to what VIA calls the Panorama Lounge – a confusing name to me since the lounge had nothing in the way of views or windows, leading me to question why it was called Panorama. Despite my name dilemma, I was glad to get out of the hustle and bustle of a busy station and in to the calm and quiet of the lounge. Equipped with leather sofas, a number of wall-mounted televisions, a self-serve snack and beverage bar and even a massage chair, the lounge was a great place for me to kick back and relax while I waited for my train.
When I did hear the news over the PA that my train had arrived and was beginning to board, I slowly made my way to the appropriate gate. As I saw the long line of people waiting to get checked in and sent down to the platform, I was less than enthusiastic about standing in line. It was only then that I realized that I was carrying a business class ticket, and upon inquiring with a VIA employee near the gate I was directed to a separate entrance where I was checked in within seconds and sent on my way to board my VIA 1 rail car.
Having found my assigned seat – business class travellers can reserve seats when booking their tickets, unlike in Economy Class where seats are made available on a first come, first serve basis – I stretched out once again in what felt like a spacious seating area.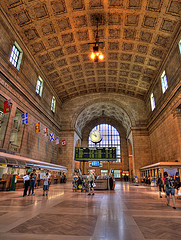 Within minutes of setting off, my cabin attendant came around with a basket of snacks from which I picked out some salty pretzels thinking how nice it was to be served a snack so quickly. I had barely gotten half-way through my snack pack and pulled out my laptop once again when this time the attendant came by with a drink cart. "Scotch, neat" I said, wondering if hard alcohol was served on trains. Answer? Yes, scotch along with an array of other spirits is served on board VIA Rail business class cars. Within the first hour of this five hour plus train ride, I had been offered snacks two more times and had my scotch topped up before I could even ask for it.
Normally a red meat eater, I decided to vary it up a little that evening and chose the fish main. After my appetizer, I was served a Potato encrusted Cod fillet with brown rice and steamed mixed vegetables. Maybe it was because I was tired after a long work week, but to this day I maintain that the Cod was by far one of the best iterations of the fish I have ever had. The Jackson-Triggs white wine served with my dinner was a good accompaniment to a great meal and having a post-dinner glass of port was just icing on the cake. I can't speak for train food in general, but the dinner served to me on board VIA Rail that day was stellar and has forever changed my opinion of the calibre of food one can have while travelling.I had my Facebook account open on my laptop and was sharing my revelations in a string of live status updates, to which a sizeable number of my friends began commenting on; turns out that I wasn't alone in my surprise as to how good travelling VIA Rail was. My biggest surprise came when I was handed a dinner menu where I had a selection of three entrées.
Turns out that alcohol after a week of little sleep will eventually put you to sleep. This was indeed the case for me, as I nodded off for about an hour with my computer open and drinks on my tray table. I awoke to a neater work area than when I fell asleep, my cabin attendant had picked up the stuff I had dropped, and steadied my precariously balanced laptop. Upon awaking, my first thought was "omg! I left my wallet on the seat next to me," it was there untouched, and suddenly the civility of travelling by train dawned upon me.
When I arrived back in Union Station that night, I was relaxed and happy; for I had no only eaten and slept on board the train, I had been able to finish all my outstanding work while on board.
For the perpetual driver I am, the VIA Rail experience from Toronto to Montréal and back had been bliss. I didn't miss playing bumper cars on the busy 401, or navigating street names labelled in French. I didn't miss making stops at gas stations and fast food outlets for food, not to mention the stress associated with keeping to schedule every time a food or fuel stop was made. Best of all, I didn't have to miss a minute of work, which meant at the end of my journey, I was at ease.
As the VIA Rail slogan goes, I did indeed find rail "a more human way to travel." Would I do it again? In a heartbeat.
Find Kanishka Sonnadara on Twitter @autoKsS
Photographs courtesy of Bobolink and Intiaz Rahim on Flickr and VIA Rail Canada