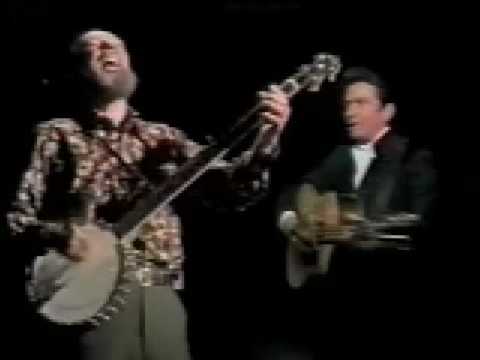 By Stephen Pate – The voice of Pete Seeger has inspired the world and singers from Bob Dylan to Bruce Springsteen.
"I have sung in hobo jungles, and I have sung for the Rockefellers, and I am proud that I have never refused to sing for anybody," said Pete Seeger on his Twitter page. @Peter_Seeger
"He thought everyone could be heroic," Seeger's grandson said. "He got the world to sing. I think he was a role model to his family, to the whole world." NBC News.
Last weekend a spoken-word recording of Pete Seeger's was up for a Grammy but lost to comedian Stephen Colbert. Seeger did not attend the Grammy's. He had been at New York Presbyterian Hospital for 6 days before he died in his sleep Monday January 27, 2014 at 9:30 PM.
It is hard not to be touched by the inevitable but sad passing of a man I admired all my life. Pete Seeger, to hundred of millions, was a testament to the power of music and the wish to improve life for ordinary people. Pete Seeger was the voice of many generations.
Pete Seeger co-wrote enduring folk songs such as "Turn, Turn, Turn", a hit for The Byrds "Where Have All The Flowers Gone" a hit for Peter Paul and Mary, and "If I Had A Hammer." Seeger also popularized Leadbelly's "Goodnight, Irene" and the anthem of the civil rights movement "We Shall Overcome."
Pete Seeger accompanied himself on the banjo with an iconic style that created a whole genre of banjo playing.

Pete Seeger on The Johnny Cash Show
Throughout the lives of most people living today, Pete Seeger has stood up for people and against big government, big business, war, poverty and oppression.
Pete Seeger was born May 3, 1919 a few months before my mother. He was a friend and fellow folk singer with Woody Guthrie, the voice of American folk music during the Dirty Thirties and 1940′s. He was also a member of The Almanac Singers during the 1940′s and the folk group The Weavers, who made 'Goodnight Irene" a #1 song in 1950.
Pete Seeger was an avowed Communist which is not unusual considering he believed in helping the worker, the little person caught in the big machine. To many Americans, communists are the enemy so Seeger was hounded out of the music business during the McCarthy witch hunt and blacklists of the 1950s.
Ever resourceful, Seeger travelled through the university circuit while blacklisted, busking for his supper and a place to stay. Eventually he built up a college following that created the folk boom of the early 1960′s. They say you can't keep a good man down.

Pete Seeger at the Newport Folk Festival 2009 (photo by DoKwan, Flickr Creative Commons license)
"Every kid who ever sat around a campfire singing an old song is indebted in some way to Pete Seeger," said folk singer Arlo Guthrie, son of Woody Guthrie.
Pete Seeger was an early supporter of Bob Dylan, who was turning out protest songs like "Blowing in the Wind" that spoke to billions of people. Seeger introduced Dylan to the Carnegie Hall audience in the fall of 1963 and later took Dylan to Greenwood Farm, Mississippi for a filmed civil rights protest concert.
When Dylan abandoned protest songs for rock and roll at Newport in 1965, Seeger was visible upset at the loss of folk music's rising star. He wanted to cut Dylan's power cable.
Bruce Springsteen put together a host of artists to celebrate Pete Seeger's 90th birthday in 2009, with Joan Baez, Judy Collins and others. Springsteen quoted from Woody Guthrie and John Steinbeck in his introduction.
During 2011, Seeger was up to his old tricks supporting the Occupy Movement in New York City. He marched 2 miles with protesters and gave gravitas to the movement. "Be wary of great leaders," he told The Associated Press two days after the march. "Hope that there are many, many small leaders."
In 2012, Seeger his voice gone recorded Bob Dylan's "Forever Young" for Amnesty International with a children's chorus.

Pete Seeger – "Forever Young"
"Can't prove a damn thing, but I look upon myself as old grandpa," Seeger told the AP in 2008 when asked to reflect on his legacy. "There's not dozens of people now doing what I try to do, not hundreds, but literally thousands. … The idea of using music to try to get the world together is now all over the place."
Throughout my life, hearing a Pete Seeger song was a personal reminder that life is not about money and business but about people and making the world a better place. There is no pay in being an activist and little reward beyond trying but we can't quit. Rest in peace Pete Seeger. We will miss you and we will not forget the songs.
The Wikipedia article on Pete Seeger is extensive and the AP obituary respectful.
Follow me on Twitter at @sdpate or on Facebook at NJN Network and OyeTimes.
Featured image by Anthony Pepitone.
By Stephen Pate, NJN Network