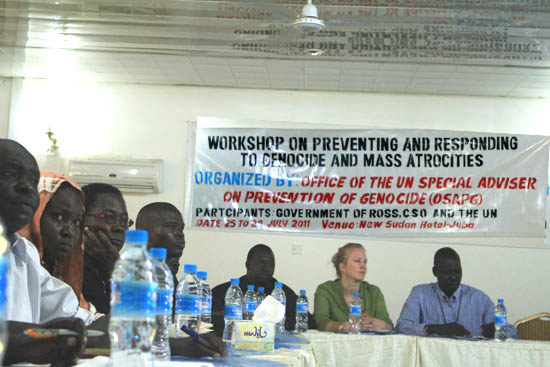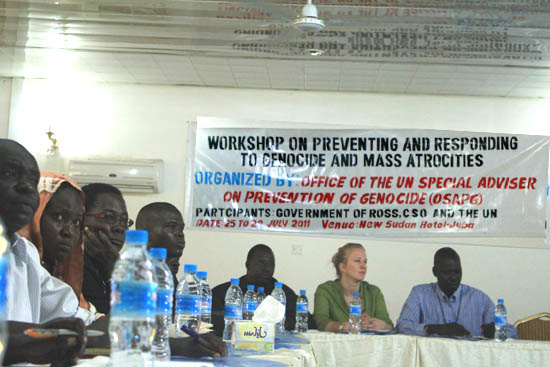 United Nations agencies in South Sudan have initiated a public move to prevent possible outbreak of genocide in the newly proclaimed Republic of South Sudan.
UN officials launched a two days seminar in Juba ending today with the objective of creating awareness to the various stake holders in the State.
Tens of civil society activists, UN Agencies and public servants are currently convening at the New Sudan Hotel to brainstorm on possible policies established by the Office of the UN Special Advisers on the Prevention of Genocide and on the responsibility to protect civilians.
The seminar consists of presentations, panel and group discussions focusing on key aspects of prevention and response. It includes a discussion on the function and methodology of the United Nations early-warning mechanism on genocide and mass atrocities.
The seminar provides a forum for participants to propose concrete measures to strengthen political will in the fight against mass atrocities. Participants are also invited to reflect on how Member States are regionally organized by the UN Office of the Adviser to the UN Secretary General on Prevention of genocide.
Francis M. Deng, Special Advisor to the UN Secretary General on the Prevention of Genocide spoke to Gurtong in an exclusive interview and explained that, the seminar is organized to avoid circumstance that would hinder building of the new State of South Sudan.
Considering South Sudan's history in the last three years where rebel activities have escalated leading to mass loss of lives and displacement, he told Gurtong that;
"Issues that have led to the secession of South Sudan from Khartoum are connected with discrimination, dehumanization, inclusivity, marginalization, and suppression, we want to prevent the new State from getting into similar errors, he added.
"We need to manage our political, social and economic differences in such a way that no one is left out," Deng said.
He pointed out that, the seminar is expected to come up with ways on how causes of genocide can be approached at the South Sudan – States level.
South Sudan became a member of the United Nations a week after the declaration of her independence on the 9th of July.
Article viewed at: Oye! Times at www.oyetimes.com