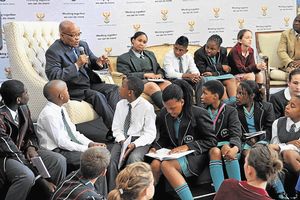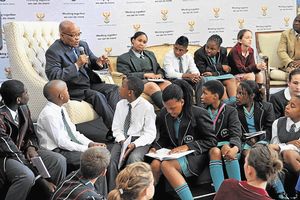 South African Youth has stepped forward to address President Jacob Zuma's in his guest-house in Pretoria, to discuss various serious issues being faced by the country from taxation to education.
Children have brought a book titled as "Children's Letters to President Zuma" as their support, which contains 165 letters. A group of pupils aged between 10 and 13 conversed with the president having high hopes that he would take serious actions on the issues raised in their letters. The issues such as crime, unemployment, a lack of services in rural areas, racism and street and town name changes have been talked about. Children have also praised the President's smile in their book and have asked him to take quick measures to create jobs, improve healthcare, protect the environment, build more schools, stop rhino poaching and criminalize littering.
Among the school kids, Ricardo Teixera, 13, has said that police should stop shooting "innocent civilians" and they are quite obese to perform their duties. They should be told to fire only as a counter and preventive measure and should join fitness classes for their physical well being.
Another student, Rosina Thathane, 12, has written her views that she is expecting to have better opportunities and facilities when it comes to education. Tertiary education needs to be free of cost for the orphans.
Palesa Sebego, 11, has put forth his idea for making the corrupt people to return all the country's money and should be put behind the bars for their irregularities.
Aarian Strydom, 11, has thanked Zuma for a great country, but the tax rate seems to be too high.
Elitricia Swart, 12, has pleaded with Zuma to stop rhino poaching and consider taking immediate action on it.
Kara Terry has complained about the harsh realities behind racism and racial based differences among them that lead to hatred among all.
The book was edited by writer and community organizer, Dr. Mukanda Mulemfo, who told Zuma that the letters are evident of children being socially concerned. They are very energetic and have all the current knowledge related to their country.
Zuma told the group that he didn't go to school because of being herdsman in KwaZulu-Natal. He has appreciated the efforts of the kids to raise their voices against all the leading mishaps and the ideas to correct them. He has given surety to individually responding to all the letters and to give every minister a copy of the book.
Article viewed at Oye! Times at www.oyetimes.com