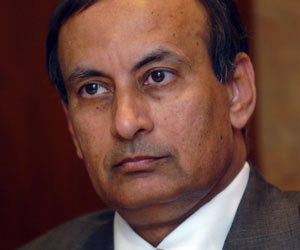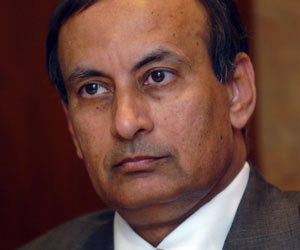 Pakistan's ambassador to the United States resigned on Tuesday, days after he was alleged to be behind a memo accusing the Pakistani military of plotting a coup in May. Pakistani state television said Husain Haqqani's resignation had been accepted by the prime minister, following a meeting with President Asif Ali Zardari, the head of the Army, and intelligence chiefs.
Haqqani is close to Zardari but estranged from Pakistan's military. He became entangled in controversy after Pakistani-American businessman, Mansoor Ijaz, published a column in the Financial Times.
Ijaz says Haqqani's memo to the Pentagon sought US help to avert a military coup in the days after the May US raid that killed Osama bin Laden in Pakistan.
Haqqani tweeted "I have requested PM Gilani to accept my resignation as Pakistan Ambasssador to US,"
The former ambassador Husain Haqqani was recalled to his home country from his posting in Washington, D.C.
The memo calls for direct political and or military intervention "to stand down the Pakistani military-intelligence establishment," and offers assistance to the Americans in echange.
That assistance would include an investigation into whether or not Pakistan provided a safe haven for Osama bin Laden before his death, ejecting militant elements like al Qaeda from Pakistani soil, and making Pakistan's nuclear program more "verifiable" and "transparent," according to the memo.
He further added "I have resigned to bring closure to this meaningless controversy threatening our fledgling democracy,"
Article viewed on Oye! Times @ www.oyetimes.com