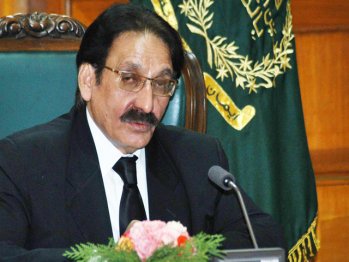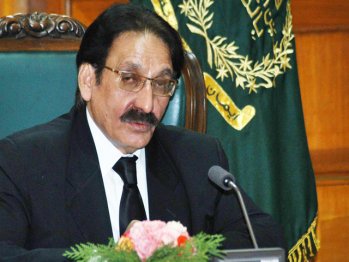 Chief Justice of Pakistan (CJP) Iftikhar Mohammed Chaudhry said on Tuesday that National Reconciliation Ordinance (NRO) is a black law, adding that the federal government wants to give 'premier of the corruption' to those who have remained involved in corruption.
The CJ made these observations while heading a full-court bench hearing NRO Review case.
The Chief Justice said "Even a word against government was not said in NRO verdict then why the government has problem with it," he also added that any person who considers he was affected by the verdict should come to the court, he would be heard.
The CJ remarked that the constitution and law governed the country. He further observed that thousands of people took benefit of the NRO; but, nobody took recourse to the court nor was the court ruling on the Ordinance was challenged. He queried as to how the NRO could be defended as Attorney General termed it as draconian law during hearingagainst the Ordinance.
'Will the government protect the one who conceal corruption and pardon any such offence?' the Chief Justice questioned adding only the federal government takes exception to the court verdict on the NRO.
Giving arguments before the 17-member bench, former Federal Law Minister Babar Awan said the government does not acknowledge the NRO even today as its repercussions are not good.
He further said notices are taken on various news reports; an affront to a lawyer should also be taken note of, adding the federal government believes in transparent and candid accountability.
'I will talk about accountability and not raise a political slogan for the elimination of corruption,' he added.
Article Viewed on Oye! Times @ www.oyetimes.com