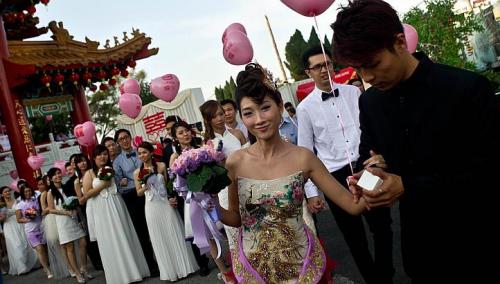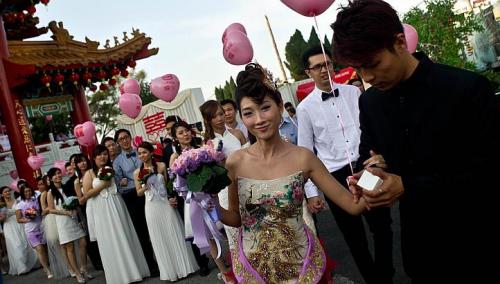 Two hundred and forty three couples have registered themselves with the Registry of Marriages in Malaysia to get married today on Valentine's Day which is also the 15th day of the Chinese New Year, called 'Yuan Xiao Jie'.

In the official Friday sermon the text distributed to mosques in the Muslim majority country, the Malaysian Islamic Development Department blamed Valentine's Day for acts like alcoholism and abortion. 'Social ceremonies such as this are a stepping-stone towards greater social ills such as fraud, mental disorder caused by alcohol, abortion and baby-dumping, and other negative ills that can invite disaster and moral decay among youths,' it said. However, members of the large Chinese minority have celebrated this day with a mass wedding of 138 couples. The lovers tied the knot at the Thean Hou temple in the capital Kuala Lumpur, releasing scores of red, heart-shaped balloons after the ceremony. 'We're doing it specially for this year as only once in 19 years does Valentine's Day coincide with Yuan Xiao Jie,' said the official at Confucian Temple.

In 2011, authorities arrested approximately 100 Muslims in a crackdown on Valentine's Day. They were detained for 'khalwat' or 'close proximity', which is the crime of being alone with a member of the opposite sex other than their spouse or immediate relative. This act can bring up to two years in jail upon conviction in Islamic sharia courts responsible for handling religious and moral offences made by Muslims.