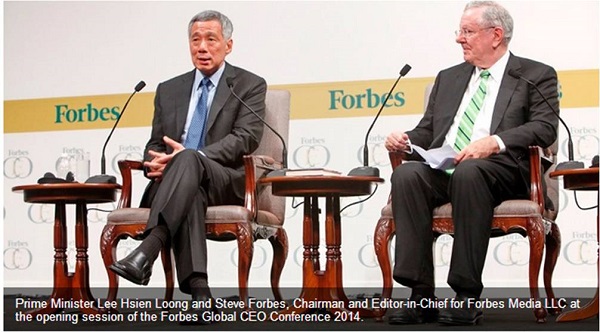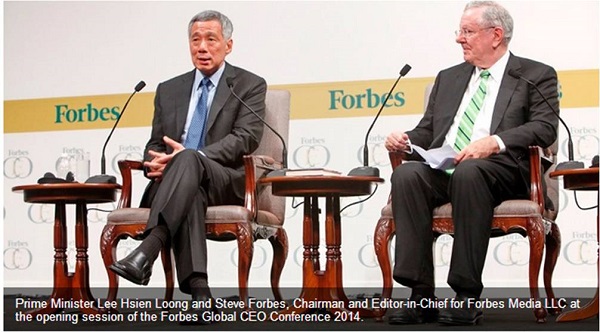 Singapore's Prime Minister Lee Hsien Loong this Tuesday said the Singapore can not take its success for granted and must remain vigilant of both domestic and foreign challenges. He said this during a dialogue with the Forbes Media chairman, Mr Steve Forbes, at the Forbes Global CEO Conference held at Shangri-La Hotel yesterday.

"Temperature has gone up on both (disputes) and they're not easy to resolve … it's a game of brinksmanship and we'll have to hope there's no mishap," he said. "But I don't see these issues being resolved quickly because sovereignty and pride are involved … All we can do is manage the disagreements and hope that our grandchildren would be wiser than us and can make progress on it." Mr Lee further added that at the same time Singapore must also guard against the violence that the extremist groups such as the Islamic State are trying to bring to the South-east Asian countries. "If that goes wrong, we have a problem in Asia and I have a problem in Singapore," he said. "It's also incumbent on us to solve domestic challenges such as economic and population growth … as well as maintaining political and social cohesion in a rapidly changing world with income equality."

"Looking forward, beyond Singapore's 50th anniversary, I think that's what we need to do: To be aware, to be paranoid so that you know there's always someone that can take your lunch away. But at the same time, to have the confidence that we have a good base and we're in strong position to do better," said PM Lee, quoted Today Online.