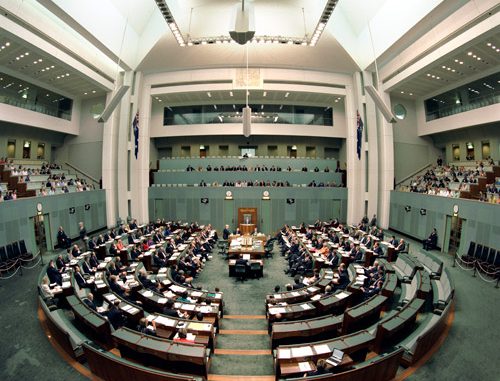 The same sex marriage has received two-third majority in the poll to make amendments to the Marriage Act of Australia.
Two opposing bills were introduced to the parliament of Australia Monday morning which aim to lift the restriction on gay marriages. The bills were sponsored by policymakers of Labor and Greens parties. Adam Bandt, MP of Greens and Stephen Jones from NSW Labor both presented their bills in front of the House of Representatives.
Stephen Jones marked his bill to "end discrimination against same sex couples who wish to have their relationships recognized by the state. I believe that God made us all equal but different, not differently equal. The object of the bill is to remove discrimination and to advance equality. It will ensure that when same sex couples make a voluntary commitment to be together for life to the exclusion of all others and they choose to have a relationship solemnized it will be recognized at law in the same way that my marriage is."
At the same time, the MP Greens Adam Bandt expressed that he was in favor of gay marriages since a while and he intends to support the bill put forward by Jones.
Some of the members of the House of Representatives also registered their protest over the approval of the same sex marriage and marked it "a very dangerous course."
The debate on both the bills put forward was adjourned. It is expected to take months before the parliament reaches to conclusion of either one of the bills.
Article viewed on Oye! Times at www.oyetimes.com