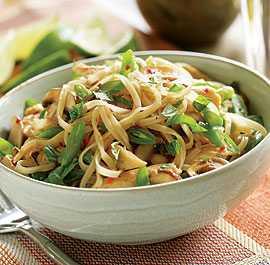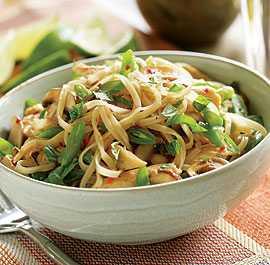 Stir Fry Chicken and Noodles
Serves 4
Ingredients:
8 oz. Medium Egg Noodles, uncooked
1 tbsp. vegetable oil
1 lb. boneless, skinless chicken breasts, cut into julienne strips (1 1/2 × 1/4-inch)
2 carrots, peeled and thinly sliced
1 bunch scallions, chopped
1/2 red bell pepper, thinly sliced
1/4 cup low-sodium soy sauce
1 cup chopped celery
1 4-oz. can sliced water chestnuts
1/2 tsp. garlic powder
1/2 tsp. white pepper
1 tsp. dried cilantro
2 tbsps. toasted almonds (optional)
Directions:
Prepare egg noodles according to package directions; drain.
In a large skillet or wok, sauté chicken, carrots, scallions and red bell pepper in oil until chicken is opaque and white, about 4 minutes, stirring constantly.
Add soy sauce, celery, water chestnuts, garlic powder, white pepper and cilantro. Mix all ingredients together, cover and simmer for 5 minutes. Stir in cooked egg noodles. Sprinkle with toasted almonds, if desired.