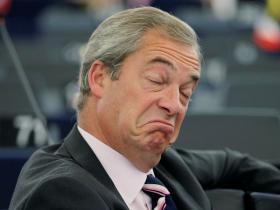 In an appearance on TV against the legal challenger to the Government on Brexit referendum issue, Nigel Farage confessed that the referendum on leaving the EU was only "advisory." Gina Miller has led the High Court to rule against Theresa May's right to trigger Article 50 without consulting Parliament as it highlights that the referendum results are not binding.
During the show, Mr Farage challenged Ms Miller and asked "I just want to ask her – what part of the word 'leave' don't you understand?" He alleged that Ms Miller has "given all those in Parliament who argue that the referendum does not mean we should leave the single market the chance, effectively, to overturn the Prime Minister's wish and mandate her". According to Mr Farage, "If that happens, you will have stirred up, I think, the biggest political upset we've ever seen."
However, in her response Ms Miller remained consistent and pointed out that the UK has a representative democracy which ensures politicians have to debate issues and in case Parliament wanted to give away its sovereignty over the choice to trigger Article 50 and leave the EU, "the Referendum Act would not have said it was advisory". She blamed that "the politicians lied all the way through because they didn't say that [it was advisory]," whereas Farage quickly admitted that "Ah. Well… I take the advisory point." He announced that "I would now wish to see constitutional change to make referendums binding and that would end this argument and there'd be no need for this case," to which Ms Miller responded "absolutely".