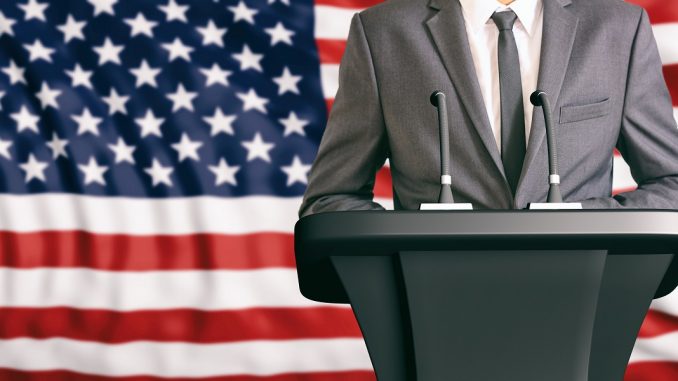 The Young Leaders Conference held in Atlanta on August 16 and 17, 2019 hosted 5,000 delegates from across the country. Prominent Democratic presidential hopefuls like U.S. Senators Elizabeth Warren, Cory Booker, and Bernie Sanders, Pete Buttigieg, and Julian Castro energized the crowd with their visions for a united America in 2020.
The Young Leaders Conference, the brainchild of Elder Mark Moore Jr. was formed five years ago with the goal of promoting informed choice in political candidates. Moore believes that voters should not rely on emotions when choosing their candidates, but that they should take a clear and rational look at their options. The conference is also dedicated to helping its attendees build community, creating solutions for the problems they experience in their communities. The conference is also a joint venture with the Black Church PAC, a political action group.
The conference was well-attended by youth leaders and black millennials. Religious leaders and local activists and politicians also attended the event. The conference promoted several different tracks to its attendees, providing a worthy experience for many interests. Pastors, women in ministry, entrepreneurs, singles, creatives, and families formed the core interest groups.
The appearance of so many prominent political candidates underscores the conference's importance to the upcoming 2020 elections. Invited to speak, these candidates were able to share their concerns for the community and offer a range of opinions concerning the issues of the day.
The divisive rhetoric of the 2020 campaign has frustrated many Democratic candidates. The Presidential hopefuls sought to set themselves apart from the Trump administration and to relay their message directly to their audience.
Bernie Sanders
During his speech at the Young Leaders Conference, Senator Bernie Sanders spoke forcefully about the problems of racism and white nationalism. He proposed stricter enforcement of laws regarding hate crimes and domestic terrorism. He pledged that if racially motivated attacks occurred, then he would "throw the full force of the law against those people."
He also promoted the makeup of his future administration, with a demographic that includes more women and people of color, bringing the administration more into line with the demographics of the country as a whole.
Elizabeth Warren
Senator Warren used her United Methodist faith to help her relate to the concerns and priorities of the conference attendees. She called upon faith leaders and voters to stand upon a common ground and to use their faith to help them make the right decisions. Warren quoted a biblical passage stating that Jesus instructed his followers to care for others, "the least of these my brethren." Warren and Sanders alike used their Biblical background knowledge to tie into their thoughts on taxation, the economy, criminal justice, and healthcare.
Pete Buttigieg
The Mayor of South Bend, Indiana, Pete Buttigieg spoke about the relationship of faith and politics in his conference speech. He said that he believes that "political leaders ought to… speak for voters of any religion and no religion equally." He also called on voters of faith to show that they have more than one choice in the election.
One of Buttigieg's main points was that he believed poverty to be a moral issue. He was challenged to describe tangible ways in which he would reduce poverty in the United States, and he spoke about raising the minimum wage, increasing unionization, and relying on faith communities to help with day-to-day issues.
Cory Booker
Senator Cory Booker had the most enthusiastic reception among all of the candidates participating in the Young Leaders Conference. Booker grew up in the black church, and he was able to speak to the community on its own terms. His vision for criminal justice reform and for strong political action gained him many followers.
Conference Goals
According to Rev. Michael McBride, a stated goal of the Young Leaders Conference is that the Democratic party has difficulty connecting to churchgoing people because it is nervous about issues of faith and race. It would certainly benefit the 2020 Presidential race if more candidates were able to converse with people of faith on their own terms. Elder Mark Moore Jr. plans to keep the conference going annually for the foreseeable future, connecting politics and faith.