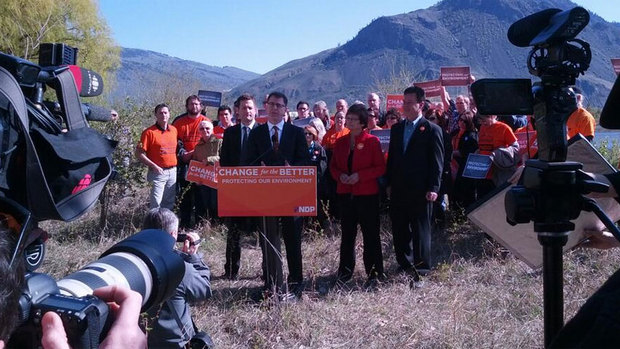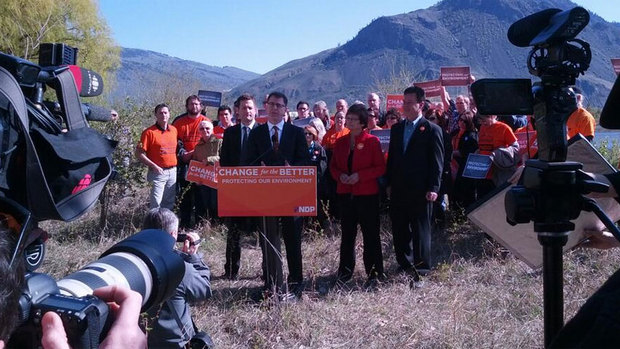 The NDP Leader of B.C., Adrian Dix, unveiled environmental platform on Earth Day in Kamloops on Monday morning. He reiterated his stance on the Northern Gateway Pipeline and offshore oil exploration, asserting that "the B.C. Liberals failed this province when they handed over decision-making power in the Enbridge decision to Ottawa in 2010." He alleged that "we would withdraw from the Equivalency Agreement and set up a rigorous, made-in-B.C. environmental assessment process."

Dix avowed to completely finish the controversial Pacific Carbon Trust, which was recently criticized by B.C.'s auditor general because it failed to meet its own guidelines. Dix mentioned that "since 2008, our public institutions have been paying tens of millions of dollars in levies to the Pacific Carbon Trust." He pointed out that "instead of using those funds to invest in energy-efficiency initiatives in schools and hospitals, the bulk of the money has been gifted to profitable corporations." Dix promised that under an NDP government levies will be compensated to hospitals, Crown corporations and post-secondary schools, which will in return be absorbed back by those public sector institutions to fund energy-efficiency upgrades.

Dix stated that NDP will pass a ban on the use of cosmetic pesticides in B.C., while also reinvesting the B.C.'s parks system. He promised that NDP will uphold the moratorium on offshore oil exploration, drilling and tankers on the North Coast. Dix made the announcement of his environmental policies in a park in Liberal Environment Minister Terry Lake's Kamloops-North Thompson riding.