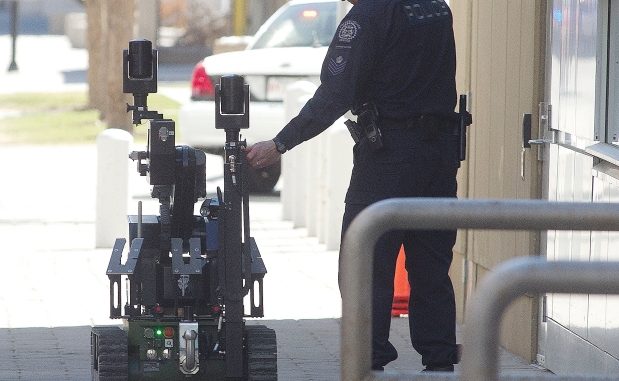 Calgary City police has confirmed to have the suspect in custody that allegedly placed a bag with a suspicious package into the security machine at the Calgary Courts Centre downtown this morning. The spokesperson for the local police, Kevin Brookwell, explained that the man attempted to enter the courthouse through security at about 9:30 a.m., when the sheriffs vigilantly spotted the suspicious device in his bag as it passed through the security X-ray.

Brookwell stated that "we don't know why or what purpose he had at the courthouse." He further revealed that upon questioning by sheriffs, "there were some initial inconsistencies with what was being said." Brookwell reiterated that the suspect was taken into custody immediately. He mentioned that "there was enough of a concern based on the photo only that the recommendation was for us to evacuate." The suspect still remains in police custody, while he is being interviewed by the authorities as to why he was in the courthouse. Meanwhile tactical team members are present inside the building to scan the premises and examine the package.

Several thousand people, including members of the public, court clerks and judges, were evacuated this morning, and still remain away from both Courts Centre towers, at 601-5th Street S.W. Furthermore, the surrounding routes to the two blocks in all directions have also been blocked, along with the public transit in the area. The newly-built two-tower centre, one with 20-storeys and the other with 24 storeys, holds 73 courtrooms.