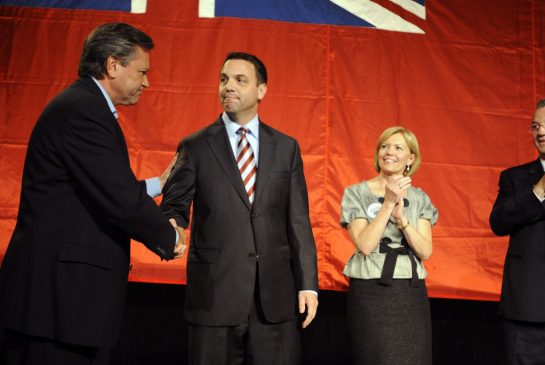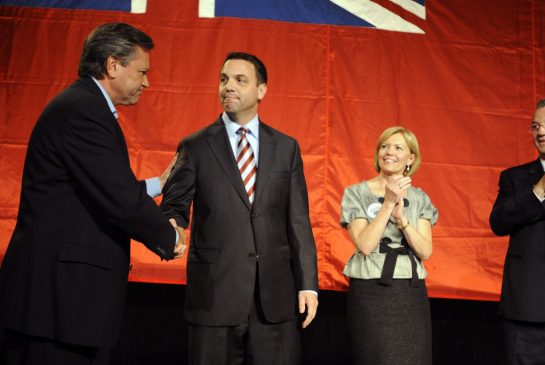 The disagreement on the issue of whether or not Progressive Conservative members shall be allowed to discuss Tim Hudak's leadership at the upcoming party convention next month has prompted a flaming conflict among Tory MPPs. House Leader, Jim Wilson, vigorously spoke against two of his caucus colleagues who are seeking permission from party to allow activists to table a motion asking for a leadership review at the Sept. 21-22 conference in London, Ont.

Wilson blamed that both runners-up to Hudak in the 2009 leadership, MPPs Frank Klees and Randy Hillier, are placing their own interests ahead of the party's. Wilson revealed that "they can't accept the fact that they lost the leadership — one of them lost twice — and just keep running that old film over again," indicating to Klees' 2004 defeat at the hands of former party leader John Tory. He mentioned that "if anyone thinks they're helping the PC Party of Ontario … or helping to defeat the corrupt governing Liberals by calling for a leadership review, then they need to have their heads examined."

Upon inquiry if he is considering removing the two MPPs from caucus, Wilson refused asserting that "I don't think so, really. They're good people. They're just a little misguided on this," adding that "this is just a distraction." Hudak is being slapped with doubts and explorations from his party members since the Aug. 1 byelections, due to their dissatisfaction upon party performance in the five former Grit ridings.