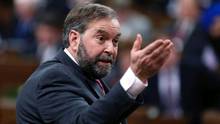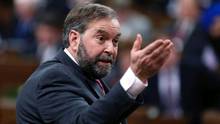 The Official Opposition leader and the Leader of New Democrats Party, Thomas Mulcair, have once again brought his party's agenda to abolish the Senate on the road. Mr. Mulcair has scheduled to pay a visit to four provinces during this week as a larger campaign of the NDP that continues to pressure the administrations to allegedly "roll up the red carpet" on the Senate.

While the number of questions being asked regarding the Senate spending grows each day, the NDP has chosen to make full use of the opportunity and to retell their previous stand to abolish the Senate. However, Mr. Mulcair refrained from discussing his proposed method to fulfill his demands on Monday. Standing in front of four fellow NDP MPs and several party supporters and staff, Mr. Mulcair appeared as if he was mentoring a rally at Parliament Hill on Monday, when he stated that "it's hard to be a place of sober second thought when you're drunk with entitlement and power… it's time to abolish the Senate once and for all."

Mr. Mulcair's tour around the four provinces is scheduled to kick start on Aug. 8 in PEI. He is anticipated to visit Halifax, the Greater Toronto Area, Montreal and several communities in British Columbia during this week. The renewed insistence on the long-standing demands of the NDP have come almost two weeks after a key development in the Senate expense controversy, i.e. the release of an audit into the expenses of Pamela Wallin asking her to repay a total of $138,969 in wrongly acquired expenses.