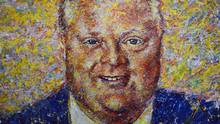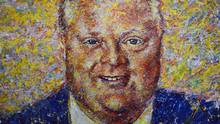 Scarborough Southwest Councillor, Gary Crawford, has announced to finish working on the Toronto Mayor Rob Ford's portrait on a canvas after having him cartooned and photographed, and his likeness sculpted from butter. One of the staunchest allies of the mayor at City Hall, Councilor Crawford, hopes to get the mayor's acrylic portrait finished this week.

On Monday, Mr. Crawford mentioned that while in the basement studio of his Scarborough home that "I don't know if it's a flattering picture of the mayor," "But it is Rob." There's no denying that. He elucidated elaborately that it is a colourful, full-face portrait of the controversial politician, a sort of force field of largely yellow, static-like energy emanating from his head or falling down like confetti around his beaming countenance. He described that Riopelle-meets-Monet splatteredness resolves into a blur of darker colours to the mayor's left (viewer's right) and to lighter, even pinkish hues on the painting's opposite edge.

Officials claim that the famous painting is due to travel different places, including Mr. Ford's mother's mantel. The painting was commissioned by Diane Ford almost three years ago, though he added that "with the demands of the job, I never got around to it." Mr. Crawford also clarified that no fee was paid for the portrait due to the project with the city's Integrity Commissioner. A BFA from York University, Mr. Crawford remains a dedicated artist, who started working on the painting in early August, and overall spent near to 150 hours before signing and varnishing it and calling it done last week.