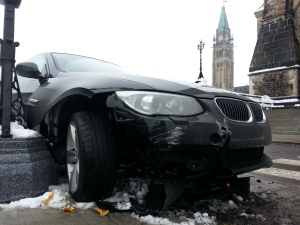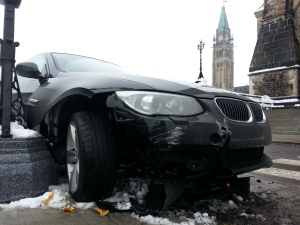 After surviving an unfortunate car crash on Parliament Hill on Tuesday, Liberal Senator Roméo Dallaire shard that it was caused due to him having lack of sleep produced by remembering the time he spent as a general during the Rwandan genocide and the recent apparent suicides of three Afghan war veterans last week. Addressing the Senate, Dallaire stated that "on my way to work this morning, I fell asleep at the wheel and crashed into the barrier near the East Block with my car. I am very thankful that nobody was injured or worse by my not being more attentive to the level of fatigue that I have been experiencing."

Later during an interview on the same day, Dallaire assured that he was unhurt, though he alleged that his biggest concern at that time was the safety of others. He stated that "I'm OK, because I was completely asleep and in so doing didn't see anything coming, so when the airbags blew open, I was sort of like a rag doll, so I have no injuries, no whiplash or anything. The gravest element of that was my fear that I had hit somebody, because the Hill is always full of people."

According to the authorities, the senator's black BMW slipped off the road and drove past the sidewalk before striking a lamp post on Parliament Hill. Dallaire explained that "I was out cold, just like that." Dallaire is a retired general headed the UN peacekeeping mission in Rwanda two decades ago.