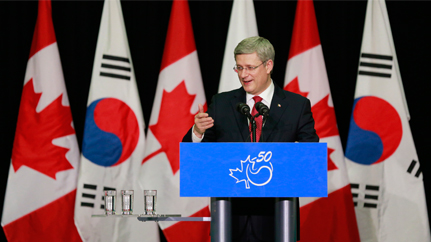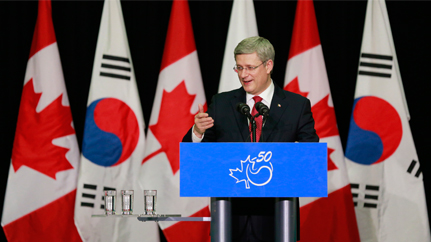 Even though Canadian Prime Minister Stephen Harper's visit to the capital of South Korea was short, he revealed on Tuesday that his team is optimistic to finally confirm a free trade deal which has been in the making for almost a decade. Both countries actually began talking free trade in 2005, although the efforts came to halt in 2008 when Korea placed a ban on all Canadian beef imports in response to a mad cow disease scare.

The ban was eventually lifted in 2012 and the free trade talks resumed last fall. However, in the meantime, South Korea signed free trade agreements with the U.S., Australia, and the European Union. Speaking in terms of support within Canada, the agrifood industry, especially pork and beef producers, have been consistently pushing for the deal in order to level the playing field. However, the North America's Big Three automakers have resisted the free trade deal and warned that Kias and Hyndais would flood the Canadian market and kill auto manufacturing jobs if the 6.1% tariff currently imposed on Korean import vehicles is phased out.

In addition to that, South Korea's alleged non-tariff barriers, like banning Canadian beef on an unfounded whim, or imposing auto regulations that only domestic cars can meet, have shaped the country's trading practices even with free trade partners. In the last year alone, two-way trade between the two countries totaled about $10 billion, making South Korea Canada's seventh largest trading partner.