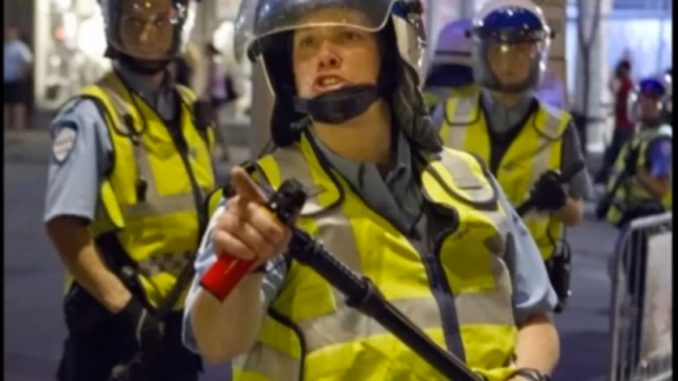 This article was last updated on April 16, 2022

A Montreal police officer commonly known as Agent 728, who became widely unpopular after being caught on camera while vehemently pepper spraying a protester, has been charged with assault in connection with the aggressive arrest of four citizens in October 2012. According to an announcement made by Quebec's director of criminal and penal prosecutions on Friday, Stéfanie Trudeau must appear in court on May 6 on charges of assault against Serge Lavoie.
Trudeau was suspended with pay last October after a second video emerged of the constable choking Lavoie after his friend was seen drinking a beer on a city sidewalk, i.e. a municipal bylaw infraction. At the time, Trudeau was quite recognizable due to the previous video showing her repeatedly wetting a protester in the face with pepper spray. Four months after the October incident, she was arrested after allegedly threatening another police officer with violence. However, a judge decided that there wasn't enough evidence to charge Trudeau, so she was let gone with 15 days of in-patient treatment at a psychiatric hospital.
In October 2012, Trudeau was recorded dragging Lavoie down an apartment stairwell by his neck. That night, Trudeau allegedly detained four people for assault and interfering with an officer of the peace and intimidation, although a video footage shows that they showed little or no resistance during the arrest. The video also shows Trudeau bragging about her reputation as a brutal officer and referring to suspects as "rats" and "guitar scratchers" who live in the Plateau neighbourhood.
You can publish this article on your website as long as you provide a link back to this page.