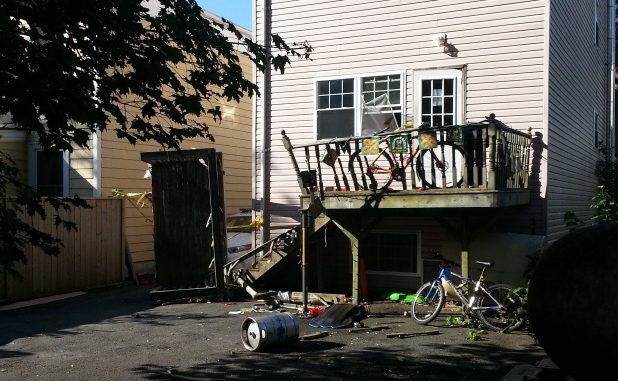 This article was last updated on April 16, 2022

A third story deck with almost seven people on-board crashed on the one below it on Brussels Street in Halifax on early Saturday morning, resulting in six people being hospitalized. The incident took place soon before 2 a.m., when the third story deck collapsed unprovoked.
Five victims were seriously injured and shifted through an ambulance to the QEII hospital, whereas the sixth arrived on its own a few hours later. According to the doctors, although the injuries as serious, they are not life threatening at this time. The injured include four females and two males, all in their early 20s. According to a statement issued by Halifax Regional Police representative, Nancy Redback, "there was a social event going on at the time," adding that municipal building inspectors have been called in to find out what caused the accident and the owner of the building is also being questioned.
One resident of the house occupants, who declined to be interviewed, confirmed that everyone was just lucky to have been able to avoid even more serious injury. The distance between the ground and deck was at least 20 feet. According to the victims' neighbor with the adjoining backyard, Kyle Smith- Windsor, "I thought it was a firework at first," adding that "then I saw the whole street light up when the emergency vehicles got there." It was added that "I heard people saying, 'Call 911, is everyone OK?' There was one guy who was screaming pretty bad."
You can publish this article on your website as long as you provide a link back to this page.