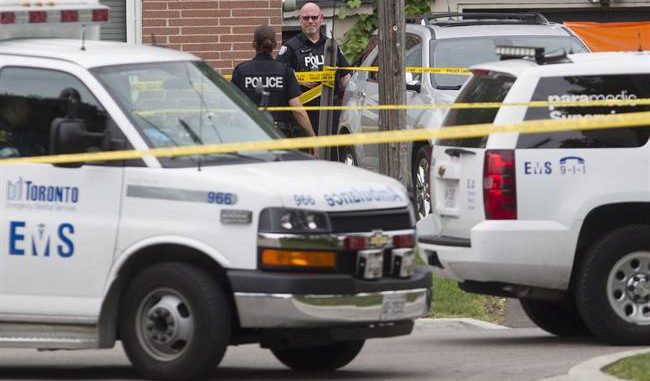 A 35-year-old man has been arrested and charged with three counts of first-degree murder after he allegedly attacked three people to death in a suspected crossbow attack in east-end Toronto on Thursday afternoon. According to a neighbor, a man banged on his door telling him to call 911 prior to first responders arriving at the scene.

The neighbor explained on the condition of anonymity that "I open the door and this gentleman almost fell on me. So I sort of carried him half into the living room and he fell down on the floor," adding that "he said, 'Call 911. My brother is bleeding in the driveway. Make sure the police come.' So I phoned 911, they put me through to the ambulance and I told them what was going on. The neighbour said he then walked outside to see a man covered in blood on a driveway across the street." It was elucidated that "so I came back and said to my wife, 'Give me a towel, I'll take it over.' So she gave me a towel and I figured if I saw blood spurting out maybe I'll be able to stop the bleeding. But there was too much blood, I couldn't see."

According to Toronto police, it was informed of a stabbing incident at a home near Lawndale Road and Argo Road, in the Eglinton Avenue East and Markham Road area, just before 1 p.m. on Thursday. Whereas, Toronto Paramedic Services confirmed that two adult males and an adult female were treated with serious injuries at the scene but were later pronounced dead.