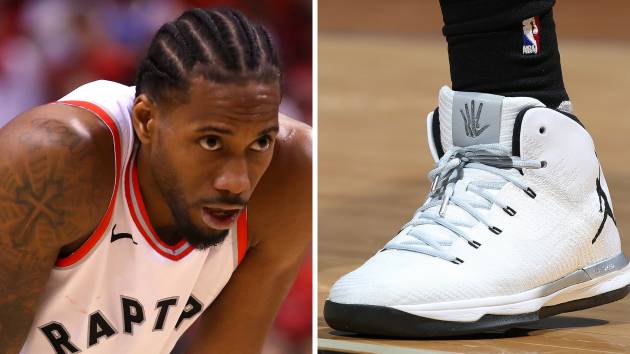 National Basketball Association (NBA) star Kawhi Leonard has filed a lawsuit against Nike over a personal logo that the Toronto Raptors small forward claims the sportswear giant fraudulently copyrighted.
In the nine-page suit filed by Leonard's lawyers in US District Court for the Southern District of California, the 27-year-old claims that Nike filed a copyright registration for a logo he authored whilst at San Diego State University without his consent.
Federer to reclaim 'RF' logo from Nike
Leonard turned down a four-year, US$22 million extension with Nike's Jordan Brand in March 2018 and became a free agent in the shoe market when his deal expired last September before signing with New Balance two months later.
According to the suit, filed on 30th January 2019, Leonard's counsel requested for Nike to rescind its claims to the 'Klaw' logo, with the player looking to utilise it for future merchandise. Nike responded on 11th March by saying that it owns property rights and demanded Leonard cease use.
'In 2011, just after being drafted to the National Basketball Association, Kawhi Leonard authored a unique logo that included elements that were meaningful and unique to him,' the lawsuit said.
'Leonard traced his notably large hand, and, inside the hand, drew stylised versions of his initials 'KL' and the number that he had worn for much of his career, '2'. The drawing Leonard authored was an extension and continuation of drawings he had been creating since early in his college career.
'Several years later, as part of an endorsement deal with Nike, Leonard allowed Nike to use on certain merchandise the logo he created while Leonard continued to use the logo on non-Nike goods.
'Unbeknown to Leonard and without his consent, Nike filed an application for copyright registration of his logo and falsely represented in the application that Nike had authored the logo.
'Leonard intends to use the logo on clothing lines, footwear and on other products and, among other things, in connection with sports camps and charity functions, but Nike explicitly has objected to such uses.'
Nike is yet to comment on the suit and has indicated to US media that will not issue a statement regarding ongoing litigation.
Leonard signed with Nike in October 2011 after being drafted earlier that year. During his agreement with the company Leonard's suit claims that he allowed Nike to use the logo and that the company acknowledged it belonged to the player. Leonard also used the logo on merchandise outside of his Nike deal whilst he was under contract.
According to the legal filing, in May 2017, Nike applied to the US Copyright Office to register the 'Kawhi Leonard Logo' without Leonard's knowledge or consent. On the application, the lawsuit says, Nike claimed authorship in 2014 of the logo and rights and permissions to the logo.
Meanwhile, the lawsuit said, Leonard in November 2017 applied for and subsequently received registration for two trademarks of the logo.
Nike has other ongoing disputes with formerly contracted sports stars. Tennis icon Roger Federer is in the process of claiming ownership of his 'RF' logo back from the sportswear brand, with the latest reports suggesting the copyright would be transferred over to the 37-year-old.