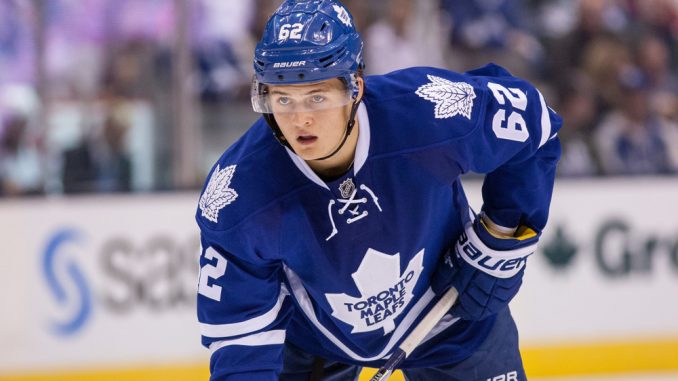 This article was last updated on April 16, 2022
Toronto Maple Leafs beat Boston Bruins to tie the series 3-3. Here is the summary for the game played on Monday, April 23, 2018.
| | | | | | |
| --- | --- | --- | --- | --- | --- |
| | 1 | 2 | 3 | OT | FINAL |
| | 0 | 1 | 0 | – | 1 |
| TORONTO | 0 | 2 | 1 | – | 3 |
GAME SUMMARY | EVENT SUMMARY | FACEOFF SUMMARY

ON THE SCORESHEET
William Nylander put the Maple Leafs on the board at 1:37 of the second period. Nylander's goal is his first of the postseason. In 2017 he registered four points (1 goal, 3 assists) in six playoff games.
Mitch Marner scored Toronto's second goal of the night at 13:25 of the second period and later registered the primary assist on Tomas Plekanec's third period goal. Marner leads the Maple Leafs in playoff scoring with eight points (2 goals, 6 assists). Tonight's game is Marner's fourth career multi-point playoff game.
Tomas Plekanec registered the primary assist on Marner's second period goal and later scored the Maple Leafs' third goal into an empty net at 18:46 of the third period. Plekanec has four points (2 goals, 2 assists) in three playoff games on home ice. Tonight's game is Plekanec's seventh career multi-point playoff game.
Nazem Kadri had the primary assist on Nylander's second period goal. Kadri has assists (2) in two consecutive games.
Nikita Zaitsev recorded the secondary assist on Nylander's second period goal and the secondary assist on Plekanec's third period goal. Zaitsev's assists are his first and second career Stanley Cup points. Tonight's game is his first career multi-point playoff game.
Ron Hainsey picked up the secondary assist on Marner's second period goal. Hainsey's assist is his first point of the 2018 Stanley Cup playoffs. In 2017 as a member of the Pittsburgh Penguins, Hainsey had eight points (2 goals, 6 assists) in 25 postseason games.
Frederik Andersen made 32 saves to earn the victory.
SHOTS FIRED
The Bruins had a 33-30 lead in shots on goal in all situations and a 31-23 edge in shots on goal at 5-on-5.
Boston had a 72-43 lead in shot attempts in all situations and a 62-33 lead in shot attempts at 5-on-5.
Auston Matthews had a team-high five shots on goal and seven shot attempts.
SHOTS ON GOAL
| | | | | | |
| --- | --- | --- | --- | --- | --- |
| | 1st | 2nd | 3rd | OT | TOTAL |
| BOSTON | 17 | 9 | 7 | – | 33 |
| TORONTO | 10 | 12 | 8 | – | 30 |
SHOT ATTEMPTS
| | | | | | |
| --- | --- | --- | --- | --- | --- |
| | 1st | 2nd | 3rd | OT | TOTAL |
| BOSTON | 26 | 22 | 24 | – | 72 |
| TORONTO | 18 | 13 | 12 | – | 43 |
OF NOTE…
Tonight's attendance was 19,604.
At 3:04 of the second period in tonight's game, Boston requested a Coach's Challenge to review whether Toronto's Zach Hyman interfered with Boston goaltender Tuukka Rask prior to his goal. After review, it was determined that the goal should have been disallowed due to "Interference on the Goalkeeper," as described in Rules 69.1, 69.3 and 69.4." Therefore, the original call is overturned – no goal Toronto Maple Leafs.
The Maple Leafs went 0-for-3 on the power play and 2-for-2 on the penalty kill tonight.
The Maple Leafs had four skaters (Patrick Marleau, Mitch Marner, William Nylander and Tomas Plekanec) not start a 5-on-5 shift in the offensive zone.
Tyler Bozak won 83 percent (5 won, 1 lost) of his defensive zone faceoffs tonight.
Jake Gardiner was on the ice for a team-high 21 Toronto shot attempts-for at 5-on-5. He finished the game with a 5-on-5 shot attempt percentage of 48.8 percent (21 for, 22 against).

MAPLE LEAFS LEADERS
| | |
| --- | --- |
| Faceoff Wins | 9 (Bozak) |
| Faceoff Win Percentage | 56% (Bozak – 9 won, 7 lost) |
| Hits | 4 (Matthews, Zaitsev) |
| Blocked Shots | 4 (Gardiner, Polak, Rielly) |
| Takeaways | 2 (Kadri) |
| TOI | 25:22 (Gardiner) |
| Power Play TOI | 4:08 (van Riemsdyk) |
| Shorthanded TOI | 4:00 (Hainsey) |
| Shifts | 31 (Gardiner) |
| 5-on-5 Shot Attempt Percentage | 53.3% (van Riemsdyk – 8 for, 7 against) |
UPCOMING GAMES:
Wednesday, April 25, TBD, Toronto at Boston (TBD)
POSTGAME QUOTES:
HEAD COACH MIKE BABCOCK
Opening Remarks:
Hello, obviously our thoughts and prayers are with the families of the people that lost their lives today and all the people that are injured. Senseless deaths to say the least. Change is the new normal in a family's life forever, whether it be no mom, no dad, no brother, no sister or whatever it may be. Obviously, we're fortunate to live in such a fantastic city with great first responders and the work they've done. It's so important we rally around these people, help out and do everything we can. We have a fantastic city and we can't let this get in the way of what we've got going. Tragic, to say the least.
On how he addressed today's events in Toronto with the team:
We've didn't talk about it in a big group and just spent the whole time talking about it. That's all anyone was talking about from the get-go. The bottom line is it was our job to do what we could to do our job here tonight. I was just thinking, I live in Yorkville I walk around the neighbourhood all the time. You're just out there enjoying a beautiful day in Toronto and senseless activity like that. I hope it's – I don't know anything about it, I probably shouldn't talk. Mental health is unbelievable in how important it is. Scary.
On the team's performance and resilience:
Yeah, just good jam. We've been talking about it all along, we're playing a really good team in Boston and this series is fun, it's high-end, there's no room, they've got high-end players. But, we think we're going to win. We've thought that all along, we started poorly and crawled our way back. Now, you have the opportunity of a lifetime. This is what we talked about. Tonight, this is fun, this is where you want to be. Going into the third period, this is fun, this is where you want to be. You want to be in these moments in your life. You don't remember everything in your life. What you do is you remember moments. You remember – and you want to create those moments. You want to create memories. Here's an opportunity for us to create memories with a good group of guys that like each other a lot, play hard for one another. We had a good regular season, we want to have a good playoff. Now we've got to go to Boston, get the clam chowder like I talked about and then we've got to dig in and win a game.
On how they managed to even the series:
I think when we were down 2-0 we weren't very happy with ourselves just because we feel we're a better hockey club than that. In Game Two, we thought we played way better than the score indicated, especially at the start – the puck just kept going in our net. If you look at last game, we got off to a great start and still kind of found a way to get in our own way. We haven't been smooth. I liked our third period tonight, but I think when you've got young people and lots of them – [Dermott], [Kapanen], [Johnsson] have hardly played in the League and you're out there in the big moments. I think it's great for our team and the development of our team. We've just got to keep grinding. We've got a good day tomorrow, we get to enjoy this tonight and get ready for – the first 10 minutes in Boston should be a ton of fun. What an opportunity. That's how we've got to go about it. What an opportunity it is for all of us. I've said this before, as a player you want to be known as someone who gets it done when it matters. All that means is doing your simple part for the group to have success.
On discussing today's incident in the city with the group:
We talked about that, we addressed that. Because it was a conversation – guys are here two or three hours before – that's all anybody talked about. We didn't have a team talk per se because that was the conversation the whole time leading into it. We've already talked about what a senseless loss. You just think 10 homes tonight and probably 26 in total for the injured people, however badly injured, life is changed forever in a second. Needless loss.
On Plekanec's performance tonight:
He's done good. Even until the point tonight, I was going to go back with Naz there but [Plekanec] has been doing a good job. Anytime you come back, your second game is not quite as good. Now we've got to give Naz the opportunity to be as dominant as he can be too. I thought Plek did a real good job and Marner and Marleau are really skating. Then, the D on the back, I thought Rielly was one of the – on the back it was hard to make plays tonight and I thought Rielly made a lot of them. Obviously, Hainsey does what he does.
On how they'll address playing in Game Seven with the group:
We talk about it. Scoring first in a game seven is a huge deal, I can tell you that. In saying all that, enjoying it. That, to me, is the biggest thing. Living in the present and enjoying the moment – you're going to be ready to go, don't spend the whole day tomorrow and the next day getting ready, all wound up. Just relax and get ready for one shift, that's all you've got to do. Be ready for one shift. Then you've got time until the next when you're sitting on the bench to get ready for the next one, you're going to be fine. It should be good, we look forward to it. These are the growing moments in your life as a player and you want to take advantage of it.
On Andersen bouncing back in games five and six:
What I would say to you is it didn't go very good for him early. I've never been a goalie, I don't know what it's like when you're in there and you can't get hit [by the puck]. It's got to be tough being a goalie I would think. It's way more fun when you're in there and you keep getting hit. He's been good for us all year long and trusts himself. That doesn't mean, as a professional athlete, at times your confidence doesn't waver a little bit. He's dug himself out of where he was in and he's been a key part for us all year long. No reason he won't continue to be.
On the growth in Marner from the 2017 to 2018 playoffs:
He's way stronger, knows how to play. Mitch was fortunate, before he got here he was with the Hunters in London and did a ton of winning. He's learned how to win, he's learned how to be F3, he's learned how to track a puck, he's learned how to compete. He has all those things, plus his skillset. What he's done at playoff time is put his work ahead of his skill and he is having success.
FREDERIK ANDERSEN (32 SAVES)
On what has led to his recent performances:
I think just enjoying the moment. Being in a do-or-die position, I think we all embrace that as a team and it's been a lot of fun so far. We've got some more work to do but, so far, it's been good. Great atmosphere here today.
On if he feels pressure the way people perceive him to:
It depends on how you think I feel pressure, but I think it's the same kind of pressure we've had these last two games where we're facing elimination and I think Game Seven should be the same. It's just something you all dream of, playing in those big moments. You also want to perform, obviously.
CONNOR BROWN (2:14 SHORTHANDED TOI)
On the team's play tonight:
I think we're making plays. I think we took a step forward in this game even from last game. We played a lot better with the lead, played a lot of that third period in their end even though we had the lead. I think we're getting better and better and more and more comfortable in these high-pressure games.
On what is working for the penalty kill:
I think we've spent a lot of time on their power play and what they're doing. I think the main thing is we just kind of got our confidence back on the kill and guys are working hard.
RON HAINSEY (1 ASSIST)
On how he feels after the win:
Happy we won. The game itself, I thought we got off to a good start and then I thought we had about 20 minutes maybe where they really took it to us. They had some great chances and our goalie was able to stand up and turn them away. We had a tough stretch there, even in the second, breaking out of our zone on a few and they had great opportunities. He shut the door. Then I thought the last 30 minutes were probably some of the better we've had all series. We got the lead and I think, it's not the only indicator, but I think they had like 21 shots in the first half and we finally settled in, played better in the neutral zone, broke the puck out better. We had some time at least not buried in our end for the second half – certainly helpful in being able to close this one out.
On what he expects from the team in Game Seven:
Hopefully the last 30 minutes of tonight's game. Getting off to a good start – I feel like if we get off to a good start and get a lead in that game, the momentum would be with us at that point, certainly. I think we should be really focusing on coming out with our very best 20 minutes we can find on the season in that building, hopefully get a lead and take that momentum hopefully to a victory.
MITCH MARNER (1 GOAL, 1 ASSIST)
On the feeling after the win:
It feels great. We knew we'd have to steal some games in Boston and now we have to steal two.
On what worked tonight:
We stayed above people. I think we didn't try too many pretty things, we got the puck in, when we got our chances we put them in.
TOMAS PLEKANEC (1 GOAL, 1 ASSIST)
On his blocked shot on the Penalty Kill:
They went up high from the goal line and a D-to-D kind of play or to Pastrnak and I saw that play developing so I just tried desperately to jump in and block it. Luckily it hit me.
On when he knew what line he'd be on tonight:
I never really knew. I just come in the morning and look at the lineup for morning skate and then go on the ice when I hear my name is called. That's pretty much what I'm trying and do.
On going up against the Marchand-Bergeron-Pastrnak line:
They played well, they had a quiet a few chances tonight, like I said. Thanks to Freddie [Andersen] at the end of the day we all held out tonight pretty good and we got a win, which is the most important part.
You can publish this article on your website as long as you provide a link back to this page.