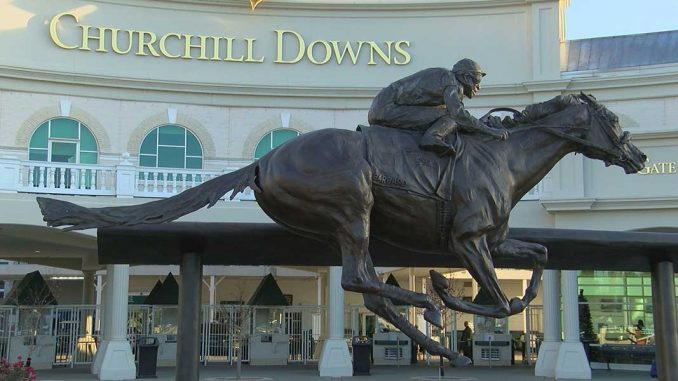 Every horse racing tournament should equate a perfect race track where the competition should visibly be observed. You'll see that each race track where there is a racing held should give enough space and distance to make sure that each horse racer can run to the best of their ability and at the same time each spectator can fully observe what's happening inside the race track.
Talking about race tracks, one of the most popular horse racing venues in the entire world is the Churchill Downs. It is the home of the world's most prestigious Kentucky Derby. This horse racing serves as a kick-off for the United States Triple Crown Series and it is the most attended horse racing competition talking about the people as well as the number of colts running.
Churchill down's racing field is located at 700 Central Avenue, Louisville, Kentucky. It was built and developed in 1895 by the Churchill Downs organization where the whole arena can hold up to 150,000 spectators. In fact, Churchill Downs became famous in the world since it is also the home of major horse racing competitions where racing superheroes are made.
Although the Kentucky Derby has recently concluded more than a month ago, the venue is set to open once again this September for a Spring Break Meet. Yes, this is the newest press release being sent out by the Churchill Down' s organization as they will open gates starting on Friday, September 14, 2019. It is said that they will host an 11-day race program which will last until September 20, 2019.
This meet will offer a different betting opportunity to all esteemed horse racing fans who want to partake the said program. This is presented by the Commonwealth Technology will run a three-week event of racing and boutique presentation where there is a huge amount of prize at stake. Each horseman has the ability to compete in all racing events holding a total purse prize of $5.275 million which is offered by Ben Huffman, the Director of Racing.
That means that the daily prize to be given away averages around $479,545 within the 11-day event and deems higher compared to what was given last year's meet. The said meeting has started and inaugurated way back in 2013 where the horsemen of Kentucky made a request to formulate this. They said that three-week event should give an opportunity to every jockey, trainers, homeowners within the area the capability to compete for a huge amount of money inside the dirt track.
The September meeting which will be held in Churchill Downs is expected to be an event full of fun. It is expected that there will be a lot of locales within the Kentucky who will be partaking in the said event. Most horse races also served this event as a training ground for them to prepare for the big races that are nearly coming.
Moreover, during this event, there will be a total of 97 colts and four other eligible entries which are qualified to showcase an incredible racing competition on September 14. This will serve as an opening ceremony of the three-week event. It is said that the race this year is bigger compared to last year because there will be an average of 9.7 horses per race compared to 8.9 in the past years.
Aside from that, the main racing event will feature different highlight to make sure that every guest will enjoy their stay in Churchill Downs. First up is a 10-day race card which will feature trio races and a tow maiden in a very special weight division. In fact, it is said that there will be a lot of horse racing superstars who will be running in the said meeting and it is expected that the event will really grace an excellent show.
​The Commonwealth Technology which is the host of this 11-day September meet in Churchill Downs has made their best effort to make sure that each guest will make the most out of their visit. The calendar of events is already set to make sure that everyone can access it and will be able to visualize what will happen during this event.
Besides, after the three-week September meet in Churchill Downs, it is expected that the Breeder's Cup will be held in this venue. It is set to return by November 2-3 and will run a 21-Fall meet. Some rumors are circulating around the horse racing community saying that the Breeder's Cup this year will be attended by new horse racers, jockeys, trainers, and colts who had been training all year long to make a new record in the horse racing world. It is also said that Churchill Downs is always the venue for the Breeder's Cup and the organization can ensure that they generate an incredible number of stakes.