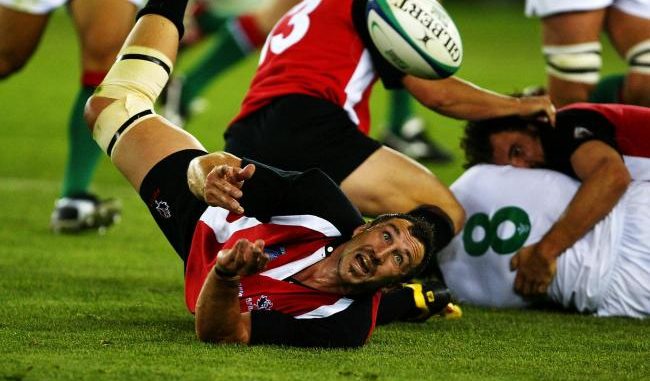 There are not many people who don't prefix the name Al Charron with the word "big".
That has much to do with his stature, but, even more to do with the fact he was one of Canada's trailblazers when it came to those who made a living in the earlier days of the professional game over here, along with the likes of Gareth Rees and Rod Snow.
Charron played at Bristol at a time when they also had Agustin Pichot and Henry Honiball on their not-insignificant wage bill.
"They were always going to play that half-back combination before they played me," he says.
Talk about doing yourself down. Charron made 76 appearances for Canada, and, is equally modest about what he achieved at that level. For instance, it almost had to be jemmied from him that he once captained his country to a famous win over Scotland. And not just any Scottish touring XV.
Mike Blair made his debut, while Chris Paterson, Jason White, Jon Petrie, Gordon Bulloch, Nathan Hines and Stuart Grimes wouldn't look out of place in any Scotland team of any era.
Next week however, the chances of Canada producing a similar result to that 26-23 scoreline in Vancouver, are maybe odds against. It won't stop the Canadians trying. But for Charron – who works on behalf of Rugby Canada on a number of fronts – the game in his native land can be pretty trying.
"We've played various matches against the Scots over the years, against teams, in various guises and differing in import-ance. But the game next week is import-ant for us in the grand scheme. You need to be testing yourself against top nations. That is how you grow and get better. It's all well and good playing equals to you, or lesser nations. You might get the results, but, what do you really gain?
"We always have to pick up our game against any touring team. Scotland will be one of the better ones. The step from professional rugby to Test rugby, today, isn't that great. But from the level most of our guys are playing at, up to full international, is quite significant. But we need to take on these matches to find out where we are in the world, and, see where we need to make progress.
"Thankfully, World Rugby still allow these matches to take place. We – and others – cannot afford to be on the outside looking in, and constantly worrying about world rankings because it could have a significant bearing on where we are seen to be, in terms of keeping people interested in us, and, interested in the game.
"Kingsley Jones is our team coach and he has quite a fresh, new approach to things. But he, and we need Test matches," says Charron.
You sense, as you do with many dedicated individuals from the less-prominent international nations, that playing World Rugby, and the politics attached, is almost as hard as participating in Test matches. Not the kind of encouragement the Canadians need when they battle for a toe-hold domestically.
"Player retention, at all levels, is a problem. It might be the same in other nations, but when you are Canada and maybe have a lot less players to pick from, you need a wider base domestically.
"Playing Test matches, and giving people something so significant to aim for, will help. But we need to understand why players get to a certain level of participation, and then they tail off. Maybe we need Canada to be making its mark to keep people interested."