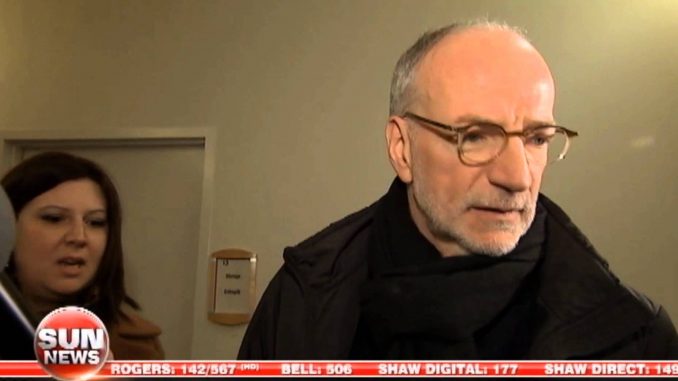 After hiding his expense double dipping for 6 months CBC President Hubert Lacroix can't face reporters
By Stephen Pate – Brian Lilley, Sun Media journalist, caught CBC President Hubert Lacroix coming out of the Senate committee hearings in Ottawa. Lacroix and his handlers brushed aside the journalists.
It's a scene we have all seen before. A high official caught double-dipping their expenses and refusing to answer journalists questions and runs from the cameras.
Last year it was high-flying ex-members of the Canadian Senate Pamela Wallin and Mike Duffy. This year's sequel stars none other than the head of the Canadian Broadcasting Corporation whose news division hounded Wallin and Duffy for more than 10 months on the same subject.
During the last 3 months of the Senate scandal, CBC was hiding its own expense scandal. The CBC President Hubert Lacroix had double dipped on his expense account for 6 years. He filed claims for $30,000 more than he should have by CBC rules and standard ethics. Everyone knows you don't claim expenses twice. More Evidence of CBC President Caught Cheating
Lacroix got caught in August and hid the story until the Senate scandal blew over in October. He then hid the story until February when Sun Media broke the story. That's not hard to do considering Lacroix controls the CBC, one of Canada's largest news organizations.
If the double-dipping on his expense report was an honest mistake, why did CBC President Hubert Lacroix hide the story for 6 months? That is a rhetorical question since most people can easily seen the deception.

Sun reporter Brian Lilley Confronts CBC President Hubert Lacroix
On Wednesday, Hubert Lacroix was caught by Sun TV reporters coming out of the Senate committee building in Ottawa. Lacroix gave Canadian taxpayers the proverbial finger, refusing to answer questions. Lacroix ran from the camera lights in a sequel to last year's Senate expense scandal.
In that scandal, the media hounded Senators Pamela Wallin and Mike Duffy, who refused to comment and hid from reporters at first. In the end, Wallin and Duffy were kicked out of the Conservative Party, then suspended without pay from the Senate.

The Senators Crisis – a short video of Senators on the run
Sun Reporter Brian Lilley, who broke the story, asks CBC President Hubert Lacroix why he didn't "explain this to the public before. Why did you wait until media stories" broke the scandal? Did Lacroix consider his conduct ethical?
Lacroix pushed past Lilley and used his assistants to block Lilley from getting an answer. President Lacroix said the CBC was transparent; however, it is obvious Lacroix has no intention of being transparent or submitting to the media himself. Lacroix and his staff do not answer to the media or the Canadian taxpayers.

CBC President runs from Sun Reporter Brian Lilley while his staff block the reporter and camera person (Photo Sun Media)
As Lacroix tried to leave, two CBC employees jostled with Lilley who swung around and cut off Lacroix at the exit. Still no answers from Lacroix and his staff dismissed Lilley.
CBC President Lacroix is adopting the same defensive position in the media as disgraced Senators Wallin and Duffy. As each of their expense scandals was revealed, the Senators hid from journalists and the camera.
If CBC President Hubert Lacroix is a person high ethics, he realizes that he has breached the trust of the Canadian public, whether by accident or design. One cannot merely apologize for a speeding or a crime and get off with the apology.
The honorable thing for Lacroix to do is resign his $400,000 annual appointment since he has lost the trust of Canadians. Stonewalling, thin excuses and avoiding the media puts him in the same class as the 4 Canadian Senators who were caught cheating on their expenses.
Hubert Lacroix hid the double dipping expense scandal
The CBC auditors caught up with Hubert Lacroix in August 2013. Some time after that he paid the money back. Lacroix has not released the details of what exactly happened so we only have the word of an executive who took $30,000 too much from taxpayers.

Senator Pamela Wallin tried to hide from the press when her expense scandal broke (Photo CTV video)
Why did it take 6 months for CBC to break the story? It is obvious that Lacroix wanted to hide his own expense scandal during the Senate expense scandal. Guilt by association is too easy for the public and it would have taken the bite out of the daily stories on CBC The National and radio news about our crooked Senators.
There is a story behind this story just like there was with Duffy and Wallin. Somebody knew about this and there were probably revealing conversations about how to kid the lid on Lacroix's expense fraud. Lacroix would have had help from the CBC lawyers, executive assistants and other employees to build a careful cover story. As we learned from the Senate expense scandal, there is collusion behind the scenes to create a cover up.

Senator Mike Duffy running through the kitchen to avoid the press (CBC photo)
If Lacroix is being honest with Canadians, why did he run away from Sun News reporter Brian Lilley. You can find the same posture of running away from the camera with Mike Dully and Pamela Wallin. The logical reason is that his story of "mistake, correction and apology" won't stand close scrutiny.
Media clips and pictures in this story are copyright material of the CBC, CTV, and Sun Media used under Canada Copyright Act Fair Dealing Section 29.2.
There is more to this story. Follow me on Twitter at @sdpate or on Facebook at NJN Network and OyeTimes.
By Stephen Pate, NJN Network