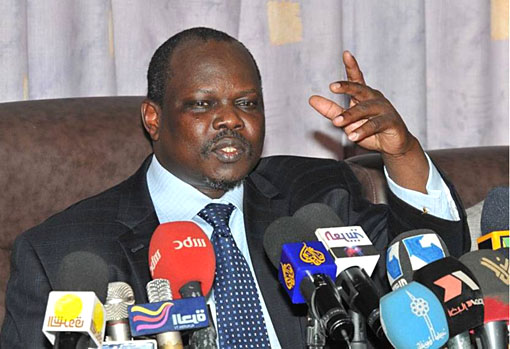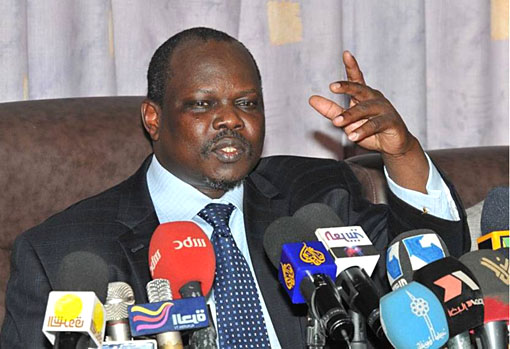 The South Sudanese Chief Negotiator, Mr. Pagan Amum has denied the accusation in a press release sent to Gurtong terming the accusation as false.
"Yet another false allegation has been made to the AUHIP that South Sudan has invaded Sudan through the SPLA troops of division 4 who are currently moving 90km inside Sudanese territory in support of SPLM-N," the release read.
He said that Sudan is creating a smoke screen by disseminating false accusations against South Sudan. The accusation came as fighting continues in the South Sudan and Sudan border areas.
"South Sudan has not invaded Sudan and there is no presence of a single South Sudanese soldier on Sudanese soil. To the contrary it is Sudan that is occupying South Sudanese territory in Hofra El Nahas, Kefia Kengi, Abyei, Heglig/(Panthow), Meganes," the release quoted.
The release further says that the conflict in Southern Kordofan, Blue Nile and Darfur is a war that is caused by elements in the Sudanese government and is a matter for the parties to the conflict in Sudan to address and resolve.
He added that Juba calls on the parties to return to the negotiation table, revive the June 2011 Addis Ababa agreement, seek a negotiated peaceful solution to the conflict, conclude an immediate ceasefire and allow unrestricted humanitarian access to assist the needy in the affected areas.
He further described the accusation as "ridiculous" and that the accusation is categorically untrue, as the entire Republic of South Sudan's Ministry of Defence staff is present in Addis Ababa, not at all occupied with an invasion of Sudan.
The release also says that the accusation is intended as a pretext for an all out invasion of South Sudan.
Sudan is also accused of planning an imminent invasion of Unity State, and to attack Bentiu, Pariang and Mayom counties, by providing 153 military vehicles to militia group mobilized in the border areas.
Pagan has asked Sudan to provide irrefutable proof for this allegation against South Sudan or withdraw it immediately.