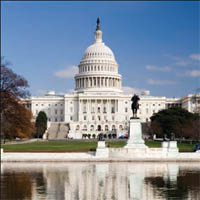 That's an increase of $87 billion from March 1st, 2011. The Federal debt is now very, very, very close to the government's debt limit of $14.294 trillion (as we all know).
That's an estimated increase of $189 billion in the deficit for the month of March 2011 alone. That's up $124 billion more than the deficit in March of 2010. The deficit for the first six months of fiscal 2011 is now estimated to be $830 billion, up from $717 billion in the first six months of fiscal 2010. We're not off to a good start!
Average nation-wide home prices have now reached the same level as they were in the first quarter of 2003. The National Home Price Index fell 3.9 percent in the fourth quarter of 2010 alone.
Despite what some pundits in the mainstream media tell us after a data release and what we hear from Federal Reserve bankers and America's politicians, all is not well on the home front and things, if they are improving at all, are improving very, very slowly. This could definitely be termed "The Reluctant Recession". Reluctant to leave, that is!
Once again, the most critical of these issues is the massive and growing amount of interest owing on the debt since it is already impinging on the federal government's ability to fund entitlement programs like Social Security, Medicare and Medicaid and will continue to do so for the foreseeable future.