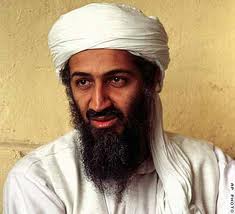 U.S. assets have killed Al-Qaeda leader Osama bin Laden in a mansion outside Islamabad, Pakistan. It is reported that Bin Laden was killed, along with other members of his family. This comes almost 10 years after the September 11th attacks orchestrated by bin Laden.
CNN has said that the U.S. had received specific information about the terrorist's whereabouts in Pakistan several months ago. President Obama ordered the operation – carried out by a handful of U.S. troops — to kill bin Laden in Pakistan. There was a firefight; bin Laden was killed, and troops took the body back to Afghanistan.
Obama gave a televised speech Sunday evening around 11:30pm announcing bin Laden's death. Apparently there was a growing crowd in front of the White House chanting "U.S.A." as the news spread. The Clinton administration didn't capture him and the Bush administration vainly tried after 9/11. Up to now, it looked as though Obama would have the same luck, however intelligence tipped the scale.
Osama bin Laden is dead, Obama Speech at White House
References
Wikipedia: Death of Osama bin Laden
Osama bin Laden died on or around May 1, 2011 when U.S. military forces shot and killed Osama bin Laden in a firefight in Abbottabad, Pakistan and then seized his body. U.S. President Barack Obama publicly reported on May 1, 2011 that bin Laden was killed by a small special operations team. The operation was carried out by Joint Special Operations Command forces in Pakistan working with the U.S. Central Intelligence Agency (CIA). After careful monitoring of a compound suspected to be bin Laden's residence in Pakistan, U.S. military forces were sent across the border of Afghanistan to launch the attack. Pakistani officials confirmed that bin Laden was killed in Pakistan by the U.S. military. The body was recovered by the U.S. military and is currently in its custody.
Presidential news conference
Late in the evening of May 1, 2011, major American news organizations were informed that the president would give an important speech on an undisclosed subject. Rumors spread wildly about the subject, until it was revealed that Obama was to announce the death of Osama bin Laden. At 11:30pm EDT (May 2, 2011 3:30 UTC), president Barack Obama confirmed this and said that Osama bin Laden had been killed by "a small team of Americans". He explained how the killing of bin Laden was achieved after following up on a lead from August 2010 and what the death of Bin Laden meant on a symbolic and practical level. Obama said that he was responsible for planning the operation that killed Osama bin Laden.
Wikipedia: Osama bin Laden
http://en.wikipedia.org/wiki/Osama_bin_Laden
Osama bin Mohammed bin Awad bin Laden (March 10, 1957 – May 1, 2011) was a member of the wealthy Saudi bin Laden family and the founder of the jihadist terrorist[1] organization al-Qaeda, most widely recognized for the September 11 attacks on the United States and numerous other mass-casualty attacks against civilian and military targets. As a result of his dealings in and advocacy of violent extremist jihad, Osama bin Laden lost his Saudi citizenship and was disowned by his billionaire family.
Click HERE to read more from William Belle
Article viewed at: Oye! Times at www.oyetimes.com