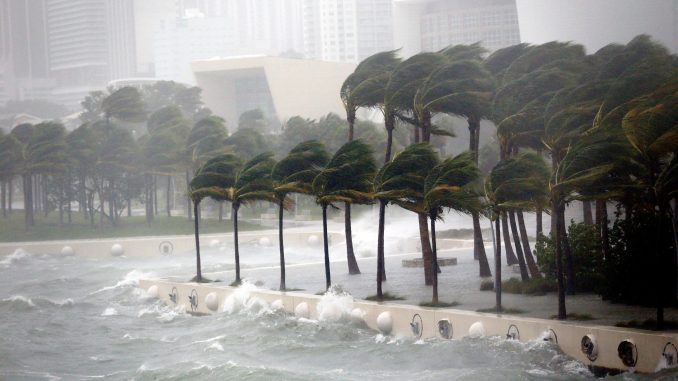 Update: Irma was downgraded to a tropical storm Monday morning, still threatening to bring storm surge and dangerous winds to Georgia and the surrounding states.
This story was originally published on September 10, 2017.
After making its way across the Florida Keys, Hurricane Irma made landfall in southwest Florida today, bringing with it pounding winds and rain that have left over 3.3 million people without power.
After changing course, Irma, which was downgraded to a Category 2 storm on Sunday evening, is making its way up the western coastline, expected to make its next landfall in the Tampa Bay area instead of Miami as first predicted. "It could make landfall anywhere along the west coast," Michael Brennan, a senior hurricane specialist at the National Hurricane Center, told the Washington Pos t. "It's really hard to predict where the eye will make landfall on the west coast once it leaves the Keys."
According to
The New York Times,
the city of
St. Petersburg has enacted a 5 p.m. curfew
. Tampa Mayor Bob Buckhorn also advised citizens that their city is "ground zero" for the storm and that a 6 p.m. curfew is in effect on Sunday night. This would be the first time the Tampa Bay area has been directly hit by a major hurricane since 1921.
Gov. Rick Scott of Florida warned on Saturday night that Florida could get as much as 18 inches of rain and that cities like Naples and Tampa Bay could be completely submerged by 15 feet storm surges. The National Weather Service called Irma "a life-threatening situation" and warned Florida residents on Twitter, "If winds go calm, you're in the eye. Stay inside! Winds dramatically shift and will do so violently! STAY INSIDE!"
Already, photos and videos from newscasters and other prominent personalities in Florida are showing how powerful this slow-moving hurricane is. Refinery29 does not recommend going outdoors to capture your own footage; it is unsafe. Much of this footage was captured from indoors or by unmanned cameras placed outside.
The images from Florida show why 6.3 million people were asked to evacuate from the state and why anyone in the storm's path should listen to law enforcement and stay inside.

The palm trees in Miami being pummeled by wind gusts that The National Weather Services reported were approaching 100 mph on Sunday afternoon.

Waves crashing over the seawall in Miami.

Recently planted palms trees in Miami were picked up by the hurricane force winds.
Sunday morning, there were already reports that Miami's streets were flooded. "Flooded area under an overpass on Biscayne Blvd," WPLG Local 10 reporter Madeleine Wright tweeted.
"Storm surge flooding of 1-2 ft along the # Miami River just west of downtown," Todd Kimberlain from the National Hurricane Center tweeted.
This video shows just how powerful the winds in Florida were on Sunday morning.
"Scene in # KeyLargo # Florida as the Ocean recedes amid # HurricaneIrma leaving boat sitting on dry land," one person tweeted.
David Sutta from CBS Miami tweeted, "Friends in Southwest Florida reporting water being sucked out to sea. This happens ahead of storm surge. Get ready."
The wind gusts were so strong they were uprooting trees. "Pls stay inside, it's dangerous out there," the Davie Police Department tweeted.
Miami International Airport reported gusts at 94 mph. Watch this video with the volume up on to know what that sounds like.
President and CEO of the Miami Dolphins Tom Garfinkel shared a photo of what it looked like outside of Hard Rock Stadium.
The flooding of U.S. 1 was one of the early signs of how powerful Irma was.
This what 15 feet of storm surge looked like in the Florida Keys.
NASA gave a sense of how big Irma was from its satellite photos.
Click HERE to read more from Refinery29


Loading ...