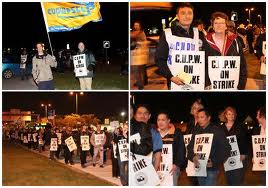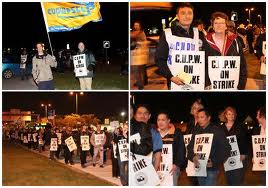 As the union said, they walked off the job in Winnipeg Thursday evening for a 24 hour work stoppage. CTV and CBC are reporting that Hamilton is next on the list with postal workers set to walk out sometime later on Friday. (As of this writing, the CUPW web site doesn't have any announcement of Hamilton or any of the supposed next targets.)
On May 30, 2010, CUPW presented their final offer to Canada Post which rejected it. (see CUPW's web site, Final Offer) While there are ten main points, it would seem that the major stumbling block in the negotiations is wages. Canada Post is citing rising costs and failing revenues as the cause for a review of labour costs which supposedly make up 64% of all costs. Canada Post has offered a four-year deal with wage increases of 1.9 per cent, 1.9 per cent, 1.9 per cent and 2.0 per cent in each year while the Union is proposing wages of 3.3 per cent, 2.75 per cent, 2.75 per cent and 2.75 per cent in each year of a four-year deal.
According to a press release on CUPW's web site dated June 1, 2011, meetings were held with CPC President Chopra and Labour Minister Lisa Raitt which basically involved reiterating the positions of all parties. Apparently nothing was resolved. The page indicates that as of 5pm EDT, no further meetings had been scheduled so Thursday looks like it will be a wash and merely be the countdown to the midnight strike action.
According to a press release from Canada Post dated May 30, 2011: CUPW's Latest Offer Is Out of Touch With Challenges Facing Canada Post.
Which side is going to budge?
CUPW represents 48,000 full-time, part-time and temporary employees in its urban operations bargaining unit.
As a reminder, CUPW has said that volunteers will be ensuring that pension cheques and social assistance cheques will continue to be delivered.
Zosia Bielski of the Globe and Mail says in an article entitled "No snail mail: Who cares?": One less bill, one less flyer: A postal strike is hardly the crippling scenario it was 14 years ago, the last time Canada Post workers hit the picket lines. Canadians can still e-mail, text, chat, and Skype at will, send Facebook invites and pay those bills online, and so many are thumbing their noses at the snail mail strike.
Good point. Just how affected are we by a postal disruption? Certainly I use normal postal service so little using electronic communication for 99% of what I do. For the other 1%, I can use a courier service. Mail is not really part of my life. It is absolutely surprising to compare my life now with my life 20, 30, or 40 years ago.
References
Canada Post: Rotating strikes to start in Winnipeg
Oye! Times, Jun 2/2011
Canada Post set to strike on Thursday at midnight
Oye! Times, May 30/2011
Canadian Union of Postal Workers
June 2, 2011 – Negotiations Alert: Strike Begins Tonight in Winnipeg
The strike will begin at 11:59 p.m. EDT in Winnipeg (10:59 p.m. CDT). The Winnipeg local will be on strike for 24 hours, after which the strike will continue in other locations to be announced later.
The purpose of this strike activity is to encourage Canada Post Corporation to abandon their proposals for significant concessions and instead negotiate solutions to the very real problems that are being experienced by 48,000 postal workers.
Winnipeg has been chosen as the location for the first strike activity because it was the first city to be impacted by Canada Post's modernization program. The results have been a sharp deterioration of service to the public as well as a host of health and safety problems experienced by postal workers due to the new work methods and equipment.
CUPW has negotiations demands designed to resolve these problems and we want Canada Post to address them.
Canada Post: News Release – May 30/2011
CUPW's Latest Offer Is Out of Touch With Challenges Facing Canada Post
The union is prepared to shut down Canada's postal system even though the company has proposed a deal that gives employees better pay and benefits than they currently enjoy. The latest counter offer from the union does nothing to address the significant challenges facing the company.
Click HERE to read more from William Belle
Article viewed at: Oye! Times at www.oyetimes.com